Bangalore Palace: An Epitome Of Architectural Grandeur
The magnificent Bangalore Palace is a famous monument that adorns Bangalore's cityscape and attracts visitors all year. This palace, which embodies imperial opulence and architectural brilliance, gives you a glimpse into the splendour and lifestyle of the Wadiyars, the Kingdom of Mysore's erstwhile royal family. The palace is not just a popular tourist destination in the city, but it is also a must-see for art aficionados, since it includes several notable artworks from the 19th and 20th centuries. Another major attraction is the palace's extensive collection of Raja Ravi Varma's masterpieces.
Bangalore Palace: History
The palace's construction began in 1874 and was completed in 1878. The site was landscaped by John Cameron, who was also the superintendent of Lal Bagh Botanical Gardens. The palace has undergone various renovations and expansions over the years. During Maharaja Jayachamaraja Wadiyar's reign, the musicians' platform and the dual exterior staircase outside the Durbar Hall were added. The palace has been at the heart of various legal battles since 1970. Smt. Pramoda Devi Wadiyar, the legal heir to Sri Srikantadatta Narasimharaja Wadiyar, a descendant of the Wadiyar royal line, currently owns and controls Bangalore Palace. Since 2005, the palace has been open to the public for tours.
Architecture Of The Palace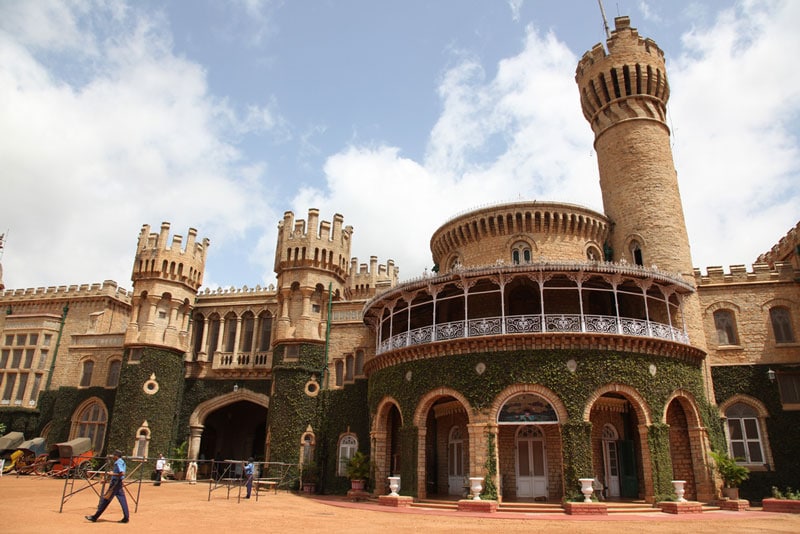 Bangalore Palace features turrets, battlements, a ballroom, and fortified towers in the Tudor Revival style of architecture. It's a two-story structure with Roman arches at the entryway. The vast mansion has a floor size of 45,000 square feet and a total area of 454 acres. The palace interiors are adorned with impressive furnishings with Victorian, neo-classical, and Edwardian characteristics. The interiors are further enhanced by elegant wood carvings, cornices, floral themes, and relief paintings on the ceiling. This regal structure also features stained glass and mirrors from England, as well as wooden fans that add to the palace's old-world appeal.
The palace has roughly 35 rooms, the most of which are bedrooms, as well as a swimming pool. The vivid blue ceramic tiles utilised in the edifice's design draw attention to the open courtyard within the structure. The palace's beautifully decorated Durbar Hall, which is adorned with a massive elephant head, is one of the palace's main attractions. The hall, which is located on the first level, includes stained glass windows and a screen that separates the space behind which ladies used to sit and watch the assembly events in the past.
---
Written By Ankit Lad | Subscribe To Our Telegram Channel To Get Latest Updates And Don't Forget To Follow Our Social Media Handles Facebook | Instagram | LinkedIn | Twitter. To Get the Latest Updates From Arco Unico