Khajuraho Temples: Elegance, Redefined
The beautiful Khajuraho temples are known for its astounding craftsmanship and elegance. They represent the pinnacle of aesthetics and architecture in the world. The Khajuraho temples are beyond description and imagination in terms of their beauty and grace. You'll be left pondering about the advanced art, sculpture, and architecture of the 10th century after seeing Khajuraho. There are few other places in the world where all types of human emotions have been depicted with such mastery as Khajuraho. The name Khajuraho is derived from its Sanskrit nomenclature 'Kharjuravahaka' which is the confluence of two Sanskrit words 'Kharjur' meaning date palm and 'Vahaka' meaning bearer.
Construction, Structure And Architecture Of The Temple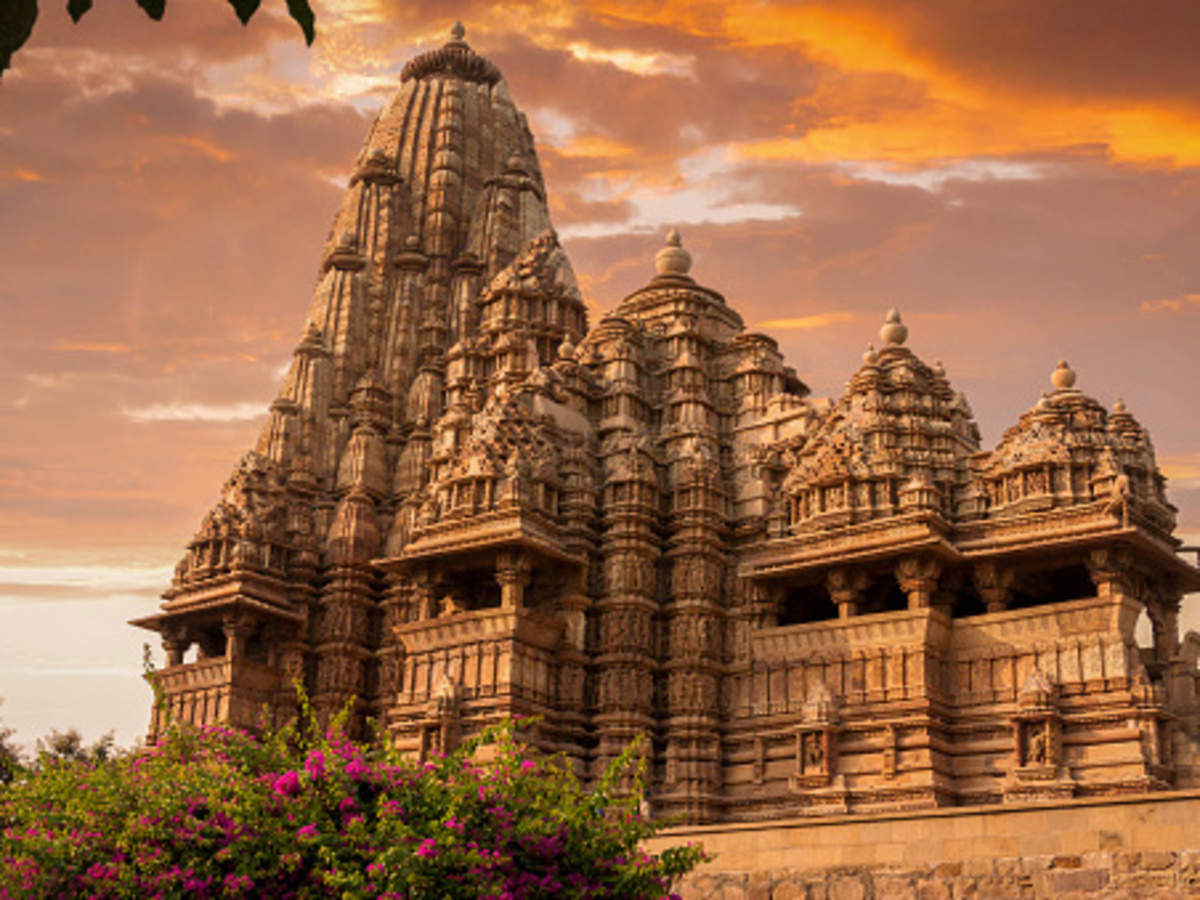 Except for the Chusat Yogini temple, which is entirely composed of granite, the Kalinjar region of Bundelkhand is home to exceptional grade sandstone. This was predominantly used as a building material for the Khajuraho temples. The temples' foundations are composed of granite, however they are generally hidden from view. Mortise and tenon joints were employed by stonemasons to attach the blocks of stone, which were then held in place by gravity. To ensure optimum stability, the columns and epistyles were constructed from single monoliths. The sculptures were created on sandstones, which allowed for extremely exact cutting, allowing for the easy manufacture of minute details.
The temples are designed in a pentagon formed by the convergence of three triangles, echoing the Hindu mandala design idea of square and circles and laid out in a pentagon formed by the reciprocation of the concepts of 'Panchbhut' or five elements and 'Trilok' or three realms.
Art And Sculptures
The elaborate carvings and sculptures that adorn the temples' outer walls are the principal feature of the Khajuraho temples. These sculptures were frequently influenced by the monarchs' religious sensibilities, as well as numerous Vedic literatures and even the ancient way of life in everyday life. The sculptures are bent in exact line with the Shilpashastra, which governed the different facets of depicting a deity or female forms in the correct manner. The sculptures are of varying degrees of fineness and artistry.
---
Written By Ankit Lad | Subscribe To Our Telegram Channel To Get Latest Updates And Don't Forget To Follow Our Social Media Handles Facebook | Instagram | LinkedIn | Twitter. To Get the Latest Updates From Arco Unico