Lewis Center For Arts' Programs Providing A New Outlook
The Lewis Center takes the existing Princetown University to even greater heights by dramatically increasing performance, rehearsal, and instructional spaces in new, cutting-edge facilities. The complex shapes campus space while maximising porosity and movement, creating a new campus gateway. 
The Wallace Dance Building, Administrative Offices At The Lewis Center
The Lewis Center for the Arts' Programs in Dance, Theater, Music Theater, and the Princeton Atelier, as well as the Department of Music's extension of instructional and research facilities in the New Music Building, were designed by Steven Holl Architects in collaboration with BNIM. The Wallace Dance Building and Theater, the Arts Tower, which houses the Hurley Gallery, administrative offices, and more studios, and the New Music Building are all part of the complex. The three structures are linked underneath in a Forum, an 8,000-square-foot open indoor meeting space that serves the complex's many cultural events. An outdoor plaza with a fountain is located above the Forum.
The new arts plaza includes overlook views into the dance and theatrical practise areas, as well as the symphonic rehearsal space, encouraging curiosity and connection. This gateway space, which is open to the public, intends to connect the local community to the University. The Wallace Dance Building and Theater was designed with the concept of a "thing within a thing" in mind.
Thought Behind The Design And Corresponding Execution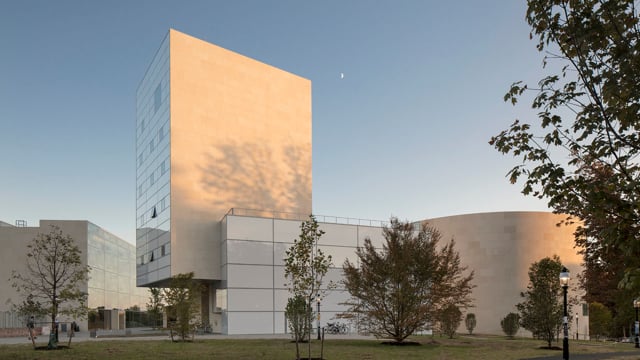 The Arts Tower was designed with a "embedded" notion in mind, with the stone tower's proportions matching those of Princeton's famous Blair Arch. The New Music Building was designed with the concept of "suspension" in mind. Individual practise rooms are suspended on steel rods above the big orchestral rehearsal space.
The new arts complex was named after and made possible in part by the late Peter B. Lewis, Princeton Class of 1955 and former University trustee, who gave the University a $101 million contribution in 2006.
---
Written By Ankit Lad | Subscribe To Our Telegram Channel To Get Latest Updates And Don't Forget To Follow Our Social Media Handles Facebook | Instagram | LinkedIn | Twitter. To Get the Latest Updates From Arco Unico