Notre Dame de Paris – One Of The Most Famous Churches
Notre Dame is a catholic cathedral situated in Paris, France. It is a spectacular example of French Gothic architecture. Notre Dame is one of the most globally famous churches.
The church was built from the ruins of two former churches. These were located on the site of a Gallo Roman temple.
The Architecture Of Notre Dame de Paris
The construction of Notre Dame de Paris started in 1163. It was the time when Louis VII ruled the place. Bishop de Sully conceived the project and invested the rest of his life in the construction of this historical landmark in Paris.
The cathedral was known to be the very first building to assimilate flying buttresses. These are needed as the walls encircling the choir. The nave had started to develop fractures caused due to stresses at the time of construction.
The Western façade of the church was constructed between 1208 and 1240. The pair of Gothic towers that are sitting atop the western façade was built between 1210 and 1250. The height of this crowning is approximately measuring to 68m which is about 223 feet high.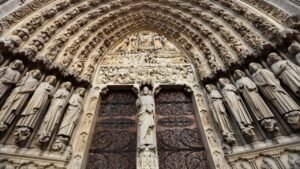 The numerous styles that are expressed on the west fronts and towers tell us the influence of various architects who were involved in the making of this splendid structure. Several elaborate statues and other elements such as tympanum and gargoyles were installed and added to the structure in the mid-13th century.
The Alteration after the Completion of Notre Dame de Paris
The famous cathedral has undergone several changes post completion of the construction. During the time of the French revolution, the church went through violation and much of the imagery was mutilated. The spire that was built in the 13th century was torn down. The splendid structure was later used as a warehouse to store food.
However, in the year 1845, the restoration of this church was started. It took 25 years to complete this project. The new spire that was built was much taller and more elegantly ornate.
Unfortunately, the cathedral faced more damages during World War II which lead to another extensive restoration program. This program was started in 1991 and ended in 2010. However, sadly again in 2019, a major fire broke and destroyed the church. The fire damaged this vintage masterpiece leading to the collapse of the 90m high lead and oak spire.
---
Written By Aishee Bachhar | Subscribe To Our Telegram Channel To Get Latest Updates And Don't Forget To Follow Our Social Media Handles Facebook | Instagram | LinkedIn | Twitter. To Get the Latest Updates From Arco Unico