The $200 Million Renovations Of The New York Public Library Is Not What You Might Expect
One of the most renowned institutions in the city is the New York Public Library, which serves millions of New Yorkers of all ages as a home away from home. In the late 1800s, Carrère and Hastings built the distinctive façade of their flagship Stephen A Schwarzman, probably the best known today. Although 40th Street and Fifth Avenue, formerly known as Mid-Manhattan Library, were nearby the Mid-Manhattan Library and have been a serious new competitor this week.
The brand new Stavros Niarchos Foundation Library was opened to the public officially with a ribbon-cutting ceremony on 1 June. A new Youth level, a new Business Center, a new learning centre and not least a new roof terrace are all included in the $ 200 million renovation.
The previous location was extensively researched before the project was begun by the Dutch architect Francine Houben from the Mecanoo company (this also restructured the renowned Martin Luther King Jr. Memorial Library in Washington, D.C.).
The new restoration welcomes visitors through a 43-foot-high atrium.
The veranda, café and garden terrace on the rooftop of the building are now open to the public just in the summertime. The podcasting studio for children and teens on the first floor as well as the learning centre for adult education are among the other intriguing new features.
Despite the impressive modern refurbishment of the building, many of its features recall its origins in Fine Art. For example, the new slanted roof "Wizard Hat" was inspired by the Beaux-Arts copper Mansard roofs and remembers the roofs found throughout Midtown.
"This is a wonderful project for the City and the people of New York and beyond, and it is very good that we at the Stavros Niarchos Foundation were asked to contribute," said Andreas Dracopoulos, Co-President, Stavros Niarchos Foundation. He describes the structure as a "truly public space for all, one which fosters the goal of NYPL, which is to provide lifelong learning for all and to increase the community's sense."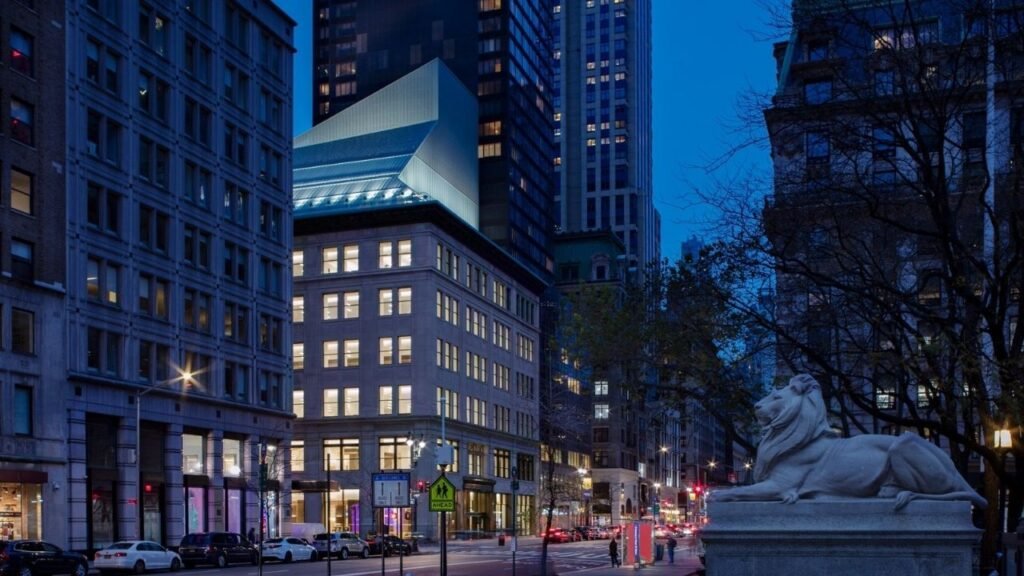 Visitors can now view on the first five floors some of the 400,000 volumes housed in the new facility, despite the fact that certain areas remain locked because of COVID constraints.
---
Written By Mahak Jain | Subscribe To Our Telegram Channel To Get Latest Updates And Don't Forget To Follow Our Social Media Handles Facebook | Instagram | LinkedIn | Twitter. To Get the Latest Updates From Arco Unico