The Shedd Aquarium in Chicago will spend $500 million to celebrate its centennial.
Shedd Aquarium, the 5-million-gallon aquatic anchor of Chicago's Museum Campus, announced last week that it would undergo a multi-phase renovation later this year. The first phase of the project, which will focus on improving visitor accessibility, enhancing the aquarium's award-winning exhibits and historic galleries, and restoring numerous original architectural features of the Beaux-Arts-style structure designed by Graham, Anderson, Probst, and White (the Wrigley Building, Merchandise Mart, and countless other early twentieth-century Chicago architectural icons), is expected to be completed in 2026. The timing of the eight-year project is deliberate, as it is expected to be completed before Shedd's 100th anniversary in 2030.
Also Read: Homes With Lush Indoor Trees That Add To The Peace
Shedd Aquarium, a National Historic Landmark since 1930, was one of the first inland aquariums and is now the world's third-largest aquarium. On the domestic front, that distinction is currently held by another inland institution, Atlanta's 11-million-gallon Georgia Aquarium.) Today, Shedd is home to 25,000 aquatic animals representing 1,100 species. It has the highest-paid attendance of any of Chicago's Museums in the Park organization's 11 member institutions, including neighbouring Museum Campus heavyweights, the Adler Planetarium, and the Field Museum of Natural History.
Valerio Dewalt Train, an architecture firm with offices in Chicago, Denver, San Francisco, and Palo Alto, will lead the design of the transformational overhaul, which will include exhibit design partner Thinc Design, project manager JLL, accessibility partner the Institute for Human-Centered Design, and diversity, equity, and inclusion partner Trinal Inc. The general contractor will be Pepper/BMI Construction LLC, a joint venture. According to a press release, Shedd has set "self-imposed goals" to award subcontracting packages to at least 26% and 6% MBE/WBE vendors, respectively, and to commit 50% of total labour work hours to Chicago residents, with 25% of all onsite labour work hours going to minority and female workers, while also ensuring that "hundreds of thousands of dollars go directly into the pockets of nearby Chicagoans, creating greater economic mobility and benefit for commuting residents." In addition, residents of the 4th Ward, where the aquarium is located, will prefer job openings.
Also Read: A spiral ramp surrounds an arts centre in China.
Throughout the multi-year effort, it is anticipated that onsite construction and renovation work at Shedd will generate more than 2,000 jobs and generate more than $340 million in economic activity. Once construction is complete and the new Shedd Aquarium opens, the institution's annual economic impact is expected to exceed $410 million.
The physical renovations at Shedd, which will begin later this year, are just one component of the aquarium's larger $500 million Centennial Commitment. According to a press release, more than half of these funds will be used to expand the aquarium's educational and conservation programming, both inside and outside the facility, through community investments and other initiatives that "not only bring the aquarium into Chicago neighbourhoods but also bring neighbourhood-level environmental discussions and solutions into new, expansive, dedicated community spaces within Shedd's walls."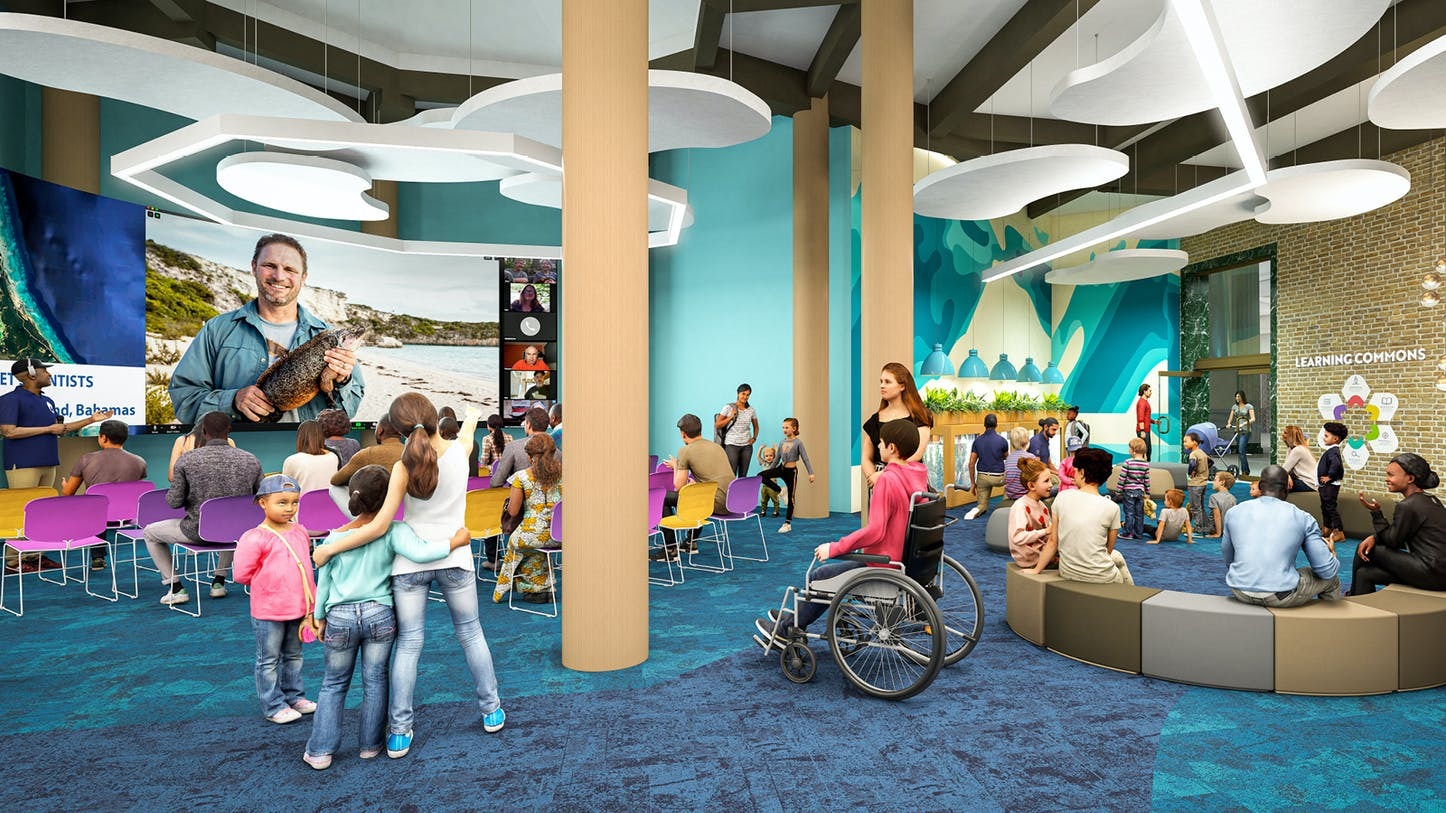 "We know that when people interact with animals up close, an emotional, empathetic response occurs, which has the potential to shift attitudes and foster stewardship of local waters, global oceans, and wildlife," said Dr. Bridget Coughlin, president and CEO of Shedd Aquarium. In an era of increasing urbanization and as a national resource for aquatic conservation and education, we bear a significant responsibility and obligation to assist in closing the nature deficit gap. The onsite modernization of the aquarium experience is a critical component of enabling this and several of our other plan objectives. "
Among the highlights of the planned revamp are the new, community-focused spaces at Shedd Aquarium. The Learning Commons, a new "experiential hub and curiosity incubator" on the aquarium's main level, will play a critical role in expanding the aquarium's educational mission. According to the announcement, this expansive space will serve as a "launchpad," increasing the amount of existing classroom space to increase the total number of students engaged at Shedd from 170,000 to 230,000 annually, as well as providing multiple areas and increased opportunities for Chicago communities to gather, engage, and connect with animals, scientists, and one another. Additionally, five existing scientific laboratories will be consolidated into a single central Science Hub devoted to microbial ecology, conservation science, water quality and chemistry, genome research, and pathology.
Since the day the Shedd Aquarium opened its doors to the public, it has attracted visitors from near and far, sparking interest and spreading knowledge about aquatic life, said Chicago Mayor Lori E. Lightfoot. With this extraordinary Centennial Commitment, the Shedd Aquarium will be able to build on this reputation while also giving back to the surrounding community, modernising their facility and deepening their ongoing environmental research. We look forward to partnering with our world-class aquarium in the future to help them achieve their goals, which will undoubtedly strengthen our city's economy and tourism scene.
---
Written By Tannu Sharma | Subscribe To Our Telegram Channel To Get Latest Updates And Don't Forget To Follow Our Social Media Handles Facebook | Instagram | LinkedIn | Twitter. To Get the Latest Updates From Arco Unico