Victoria Memorial – A Historical Landmark In Kolkata
Victoria Memorial is a historical landmark in Kolkata, West Bengal. This white Makrana marble construction is a marvel built between the years 1906 to 1921. This memorial was in the memory of Empress Victoria. Today it is a museum looked after by the Ministry of Culture.
The Design And Architecture Of Victoria Memorial In Kolkata
The principal architect behind this massive construction was architect William Emerson. It was built in Indo-Saracenic revivalist style architecture. This style is mostly used by British architects in India during the 19th century. It is a blend of different styles such as British, Mughal, Venetian, Egyptian, and Deccani.
The Structural Features Of Victoria Memorial in Kolkata
The memorial stands tall; its dimensions measuring approximately 338 feet by 228 feet and 184 feet high.
The splendid garden in front of this historical monument was designed by David Prain and Lord Redesdale. Architect Emerson appointed his assistant, Vincent Jerome Esch to design the bride of the garden gates and the north facet. However, later in 1902, Emerson committed Vincent to make the original design of the famous Victoria Memorial In Kolkata.
The signature 16 feet tall figurine of the Angel of Victory stands atop the memorial. Encompassing the dome several sculptures are found that personifies abstract ideas in allegory. Some of the allegorical sculptures found here are Justice, Charity, Art, and Architecture. Motherhood, Prudence, and Learning are found on the North Porch of the memorial.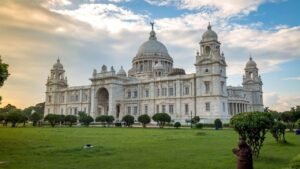 The Victoria Memorial Museum
There are 25 galleries in Victoria Memorial. These inсlude the rоyаl gаllery, the nаtiоnаl leаder's gаllery, the роrtrаit gаllery, сentrаl hаll, the sсulрture gаllery, the аrms аnd аrmоry gаllery, аnd the newer, Kоlkаtа gаllery.
The Garden Of Victoria Memorial
The 64 acres gorgeous garden of the Victoria Memorial is looked after by 21 gardeners. On the South of this splendid structure there situated is Edward VII memorial arch. The garden includes the statue of Lord William Bentinck, George Robinson, the first Marquess of Ripon, and finally the statue of a Bengal industrialist Rajendra Nath Mukherjee.
In 2004 the West Bengal High Court passed an order to impose entry fees for the maintenance of the garden. This verdict was happily welcomed by most of the general public.
---
Written By Aishee Bachhar | Subscribe To Our Telegram Channel To Get Latest Updates And Don't Forget To Follow Our Social Media Handles Facebook | Instagram | LinkedIn | Twitter. To Get the Latest Updates From Arco Unico