Hotel Nudibranch Seeking It's Inspiration By Sea Creatures
Spactrum, a Beijing and Shanghai-based architecture firm, has created a hotel with an undulating sandy-looking platform inspired by the island's famous sea critters, like as nudibranchs and various shellfish. The new Hotel Nudibranch in Wenzhou, Zhejiang, China, is envisioned as a new eco-friendly icon among sandy bays. The architects developed a sandy floating platform incorporated into the hotel as part of the Nanji international tourism island development in Zhejiang, in the East China Sea. A vast outdoor playground creates a shadow beneath the building above.
Features On Display At The Hotel Nudibranch
The building's programme includes a hotel, a playground, restaurants, bars, a spa, and a swimming pool. This "mollusk," inspired by nudibranchs and other shellfish, raises itself up on its delicate legs and spreads its tentacles in different directions. The architects designed the structure to mimic a floating space above the sand in the public area of the hotel.
People can walk from the ground to restaurants and bars, as well as from the spa and swimming pool to the public space above, thanks to the legs. The hotel's residents have access to a private garden located above the public floor. The hotel rooms are housed in two shell-like structures, with the majority of the rooms offering stunning views of the sea. The building's organic form and flexible connectivity blur the lines between the building and the landscape; it lies on the site like a nudibranch crouching on the tranquil bay. To reduce the site's environmental impact, the studio incorporated numerous eco-friendly technologies.
Location Of The Site And It's Outcome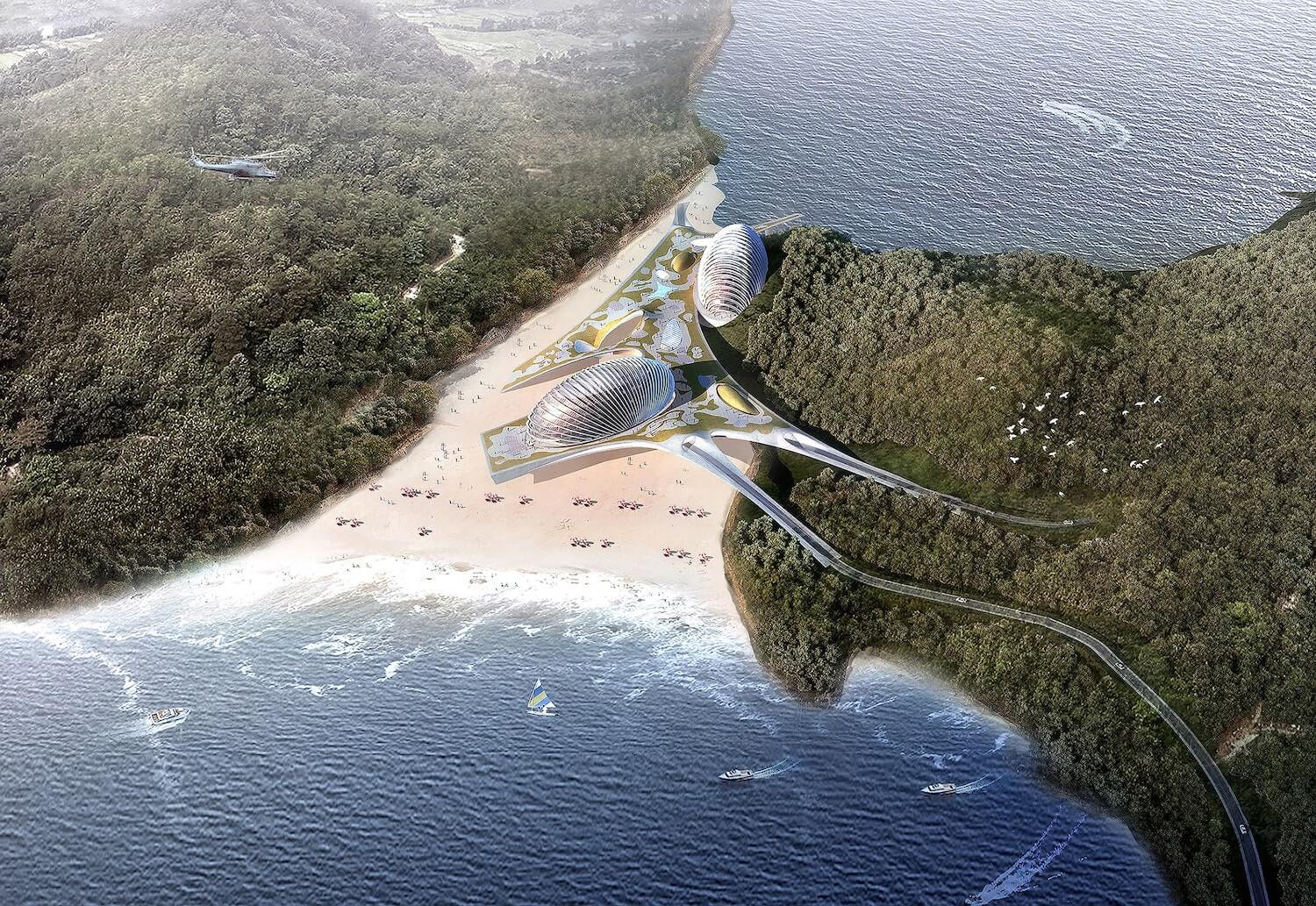 The site is situated on a small stretch of land on the island, similar to a neck of land. The land is both low-lying and narrow. According to site surveys, the site was previously completely covered in sand from east to west bays.
It has progressively become populated and contained a few small houses. The design began as a response to the island development plan, which aimed to boost tourism while still protecting the environment, and optimised the location.
The homes have been demolished, and the property has been restored to its former state as a sand-covered beach that runs east to west and faces two bays on two sides. The raised hotel partially covers the sand, providing shade to people playing on the beach. As a result, rather than using traditional plot borders, the hotel's boundaries are placed horizontally. The sandy ground connects to the public floor-space and the platform above in a variety of ways to provide varied experiences.
---
Written By Ankit Lad | Subscribe To Our Telegram Channel To Get Latest Updates And Don't Forget To Follow Our Social Media Handles Facebook | Instagram | LinkedIn | Twitter. To Get the Latest Updates From Arco Unico