Korean Architecture: From Neolithic To The Modern Phase
The harmony of Korean traditional building with nature is its distinguishing feature. The bracket system, which is typified by thatched roofs and heated floors known as ondol, was adopted by ancient architects. The wealthier classes constructed larger homes with gracefully curved tiled roofs and soaring eaves. Palaces and temples, as well as preserved old residences known as hanok and special locations such as Hahoe Folk Village, Yangdong Village of Gyeongju, and Korean Folk Village, all feature traditional architecture. Traditional architecture can also be seen in South Korea's nine UNESCO World Heritage Sites.
Post Divisions In Korean Architecture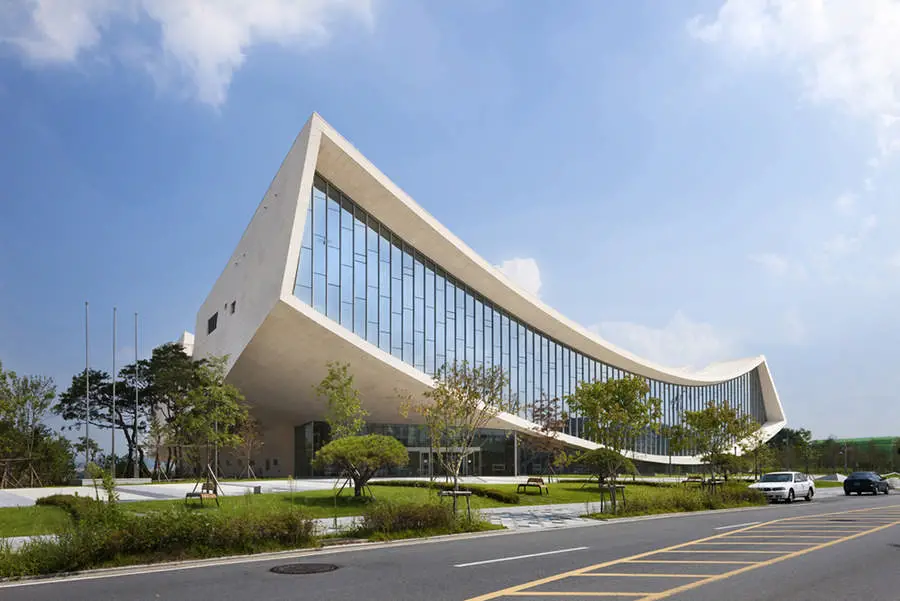 Domestic architecture, both civic and rural, kept to traditional buildings, building processes, and using local materials and vernacular styles, with American models greatly influencing contemporary Korean buildings of any significance. The pragmatic need to restore a country wrecked by exploitative colonisation and civil conflict resulted in ad hoc buildings with no particular styles that were frequently extended, as well as a factory system of plain inexpensive throwaway buildings. Because few Korean cities had a grid system and were frequently bounded by mountains, metropolitan landscapes lacked difference; by the mid-1950s, rural areas were underfunded, urban areas were overcrowded, and urban expansion began.
Sports As An Overarching Theme In Their Architecture
South Korea's victories in the Asian Games in 1986 and the Olympic Games in 1988 sparked a flood of new construction development. International architects were encouraged to submit designs in order to advertise the country internationally, presenting different notions for modern architecture that began to prioritise aesthetic and form over utilitarian practicality. In Korea's history, sports architecture has absorbed the most money and expressed the most form identity. Hundreds of billions of won have been invested to establish Korea as a sports mecca, with architecture at the forefront.
Most of the largest projects in the South, like those in the North, were government-sponsored works, but they were done in limited areas rather than open spaces, and they used a lot of enclosed space, particularly in state-subsidized, extremely expensive sports architecture. Since the 1980s, sports have been the driving force behind some of Korea's most famous architectural works, including the Asian Games (1986), the Olympics (1988), and the 2002 World Cup stadia, as well as significant support from chaebols like the Samsung Group, which owns sports teams for marketing purposes.
---
Written By Ankit Lad | Subscribe To Our Telegram Channel To Get Latest Updates And Don't Forget To Follow Our Social Media Handles Facebook | Instagram | LinkedIn | Twitter. To Get the Latest Updates From Arco Unico