Niterói Contemporary Art Museum in Rio de Janeiro
Rio de Janeiro houses the very famous Niterói Contemporary Art Museum. It is one of the significant landmarks in Brazil. The design was meticulously made and executed by the architect Oscar Niemeyer under the guidance of several structural engineers. The construction of this art museum was completed in the year 1996.
The Architecture Of Niteroi Contemporary Art Museum In Rio de Janeiro In Brazil
The ultimate height of MAC-Niteroi is 16 meters with 50 meters diameter cupola bearing three floors. There is a hexagon-shaped primary hall. This main hall arranges 400 square meters of column-free exhibition space.
The museum houses 1217 artworks from Joao Sattamini who is a well-known art collector. The collections were installed in the museum since 1950. This accounts to be the second-largest contemporary art collection in Brazil.
The museum extends over Boa Viagem beach. A reflecting pool measuring approximately 8790 square feet encircles the cylindrical base resembling a flower as per the words of Niemeyer.
An extensive access slope escorts to a Hall of Expositions. The hall can accommodate sixty people. Two entrance doors lead to the viewing gallery. Through the place, several spectacular views of Guanabara Bay, Rio de Janeiro, and Sugarloaf mountains can be seen.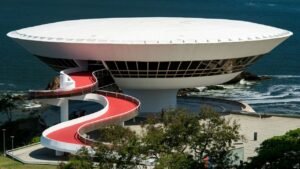 The Remarkable Architecture Is A Popular Landmark In Brazil Attracting Numerous Tourists
The iconic form of MAC transcended the beauty of the place to a whole new level. This spectacular landmark has attracted numerous visitors for years with its exceptional and extraordinary architecture.
When it comes to the Cliffside site the architect Niemeyer pointed out that the field was narrow and it was surrounded by sea. This finally came as a solution. Niemeyer was thus inspired to design the remarkable structure that rises from the water basin. This curvy and unique shape of the structure creates an aesthetic ambiance overlooking a stunning view of Guanabara Bay and the Sugarloaf mountains.
The fine modernist structure looks like a UFO. It is built on a Cliffside and there is a beach at the bottom of this architecture. Architect Niemeyer admitted that out of the structures he has designed throughout his career, Niteroi Contemporary Art Museum is by far one of his most favorite projects.
---
Written By Aishee Bachhar | Subscribe To Our Telegram Channel To Get Latest Updates And Don't Forget To Follow Our Social Media Handles Facebook | Instagram | LinkedIn | Twitter. To Get the Latest Updates From Arco Unico