Tomacado Restaurant: Shanghai's Beauty Studio
The Tomacado restaurant uses its unique deconstruction techniques and the Chinese design firm Liang Architecture Studio has reflected it's beauty of flowers. The location, dubbed Tomacado (Shanghai IFC), is located in the International Finance Center (IFC) in Shanghai, China, and was envisioned as a new restaurant to share love and beauty with the city.
The Heaven Of Peace: Tomacado Restaurant's Interiors
People who live fast-paced lives in cities are increasingly seeking an undisturbed environment where they settle down and enjoy life. Tomacado is a venue that blends culinary services with a flower store in the hopes of creating a "paradise of serenity".
Tomacado Restaurant's spatial design is based on the designers' architectural and object ideas. The design team thinks that items shape space, hence objects serve as the foundation for functions and as bearers of the circulation path. The structural relationship between objects and physical vectors can assist blur the interface or make it more dynamic while also visually bringing a strong feeling of rhythm to the area. Space and items are complementary and enhance each other's worth.
Structures And Rhythms Observed In The Project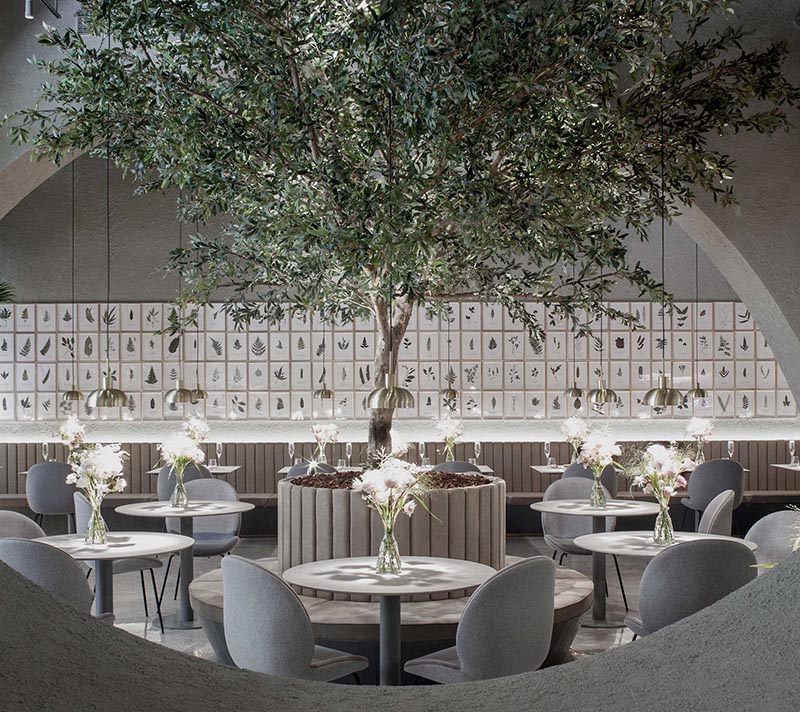 Deconstruction techniques were used by the designers to incorporate the natural form and beauty of flowers into the environment. The general style of the area is flowery, echoing the brand's idea of transmitting beauty and love while also bringing new experiences. The curved structures connect the ceiling, walls, and floor, creating a gentle, rhythmic environment. The beautiful and graceful magnolia denudata, known as Shanghai's city flower, is transformed into a floral art work at the stairwell. The flowers embrace the light, displaying an elegant aesthetic as well as a dynamic posture.
The uneven structural shapes in the Tomacado Restaurant create a strong bond between people and the environment. The restaurant's facade is designed in the shape of petals, and the plaster reliefs depict floral motifs beautifully. The circulation creates a romantic environment by subtly leading to the depth of space and allowing guests to enjoy the play of natural light and shadows.
---
Written By Ankit Lad | Subscribe To Our Telegram Channel To Get Latest Updates And Don't Forget To Follow Our Social Media Handles Facebook | Instagram | LinkedIn | Twitter. To Get the Latest Updates From Arco Unico