The Frederick Fisher And Partners Municipal Buildings Are Green Systems Champions.
The immaculate appearance of Santa Monica City Hall East deceives. It is sleek and boxy, like a midcentury office building, with a tailored facade reminiscent of a grey flannel suit. However, the 50,200-square-foot companion building to the Art Deco City Hall from 1939 is not a paper pusher. Instead, behind a bureaucratic façade, a bohemian sensibility and a suite of high-performance green building systems are concealed—including an old countercultural staple: composting toilets.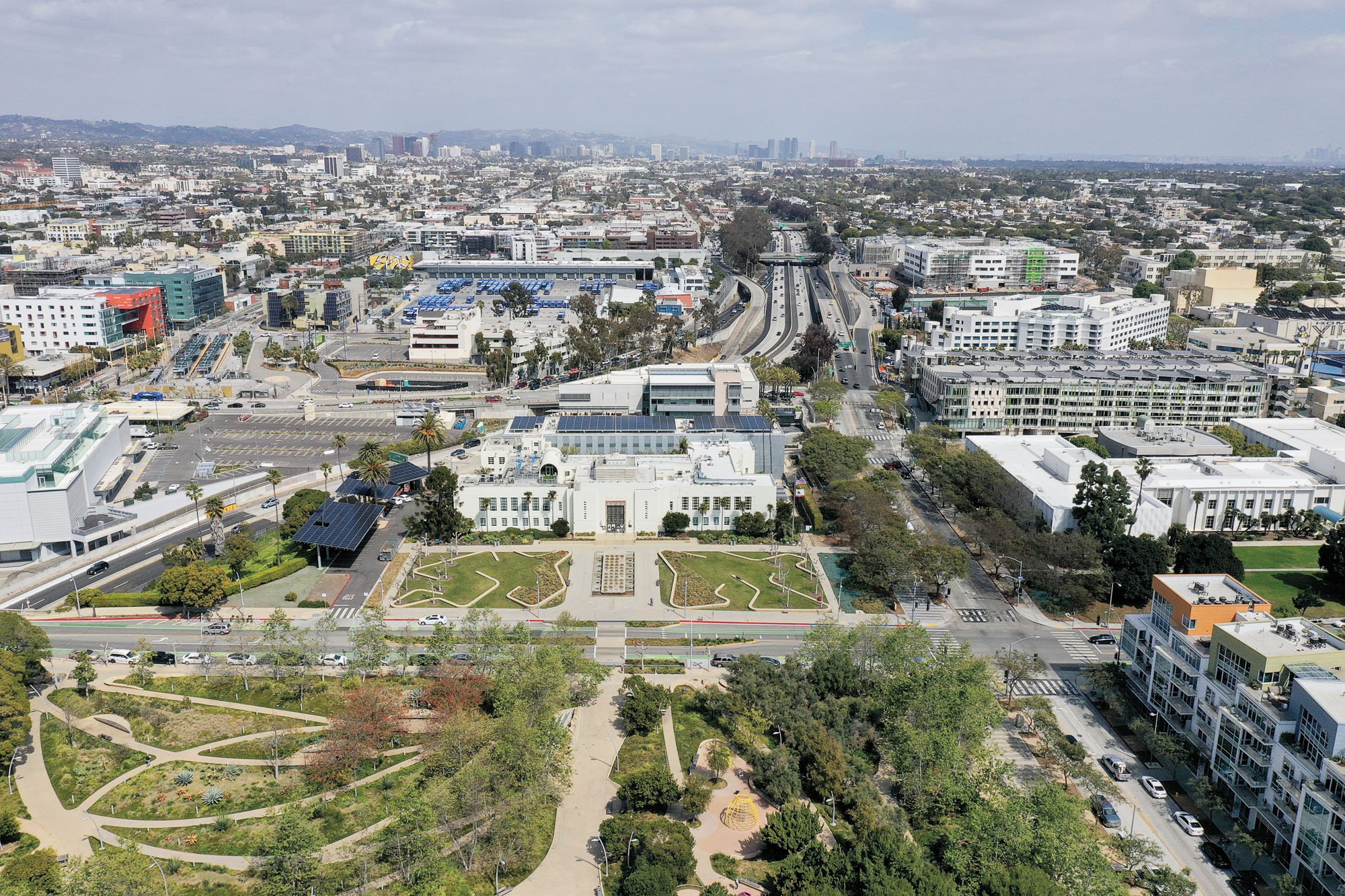 Also Read: Clean energy technology must be designed for recycling.
City Hall East complies with a 2013 local mandate requiring new structures to be net-zero energy and net-zero water. Such a rigorous approach to sustainability posed a challenge for architect Frederick Fisher and Partners (FF&P), who collaborated with engineering firm Buro Happold and general contractor Hathaway Dinwiddie Construction Co. to bring the design up to Living Building Challenge standards and meet the City of Santa Monica's design-build RFP requirements.
"We needed to strike a balance between sustainability and cost," explains Joe Coriaty, FF & P's managing partner. "We were aware that this would be a demonstration project." So not only did the project need to emulate Living Building practises such as self-sufficiency, natural ventilation, and solar energy generation (nearly 15,000 square feet of photovoltaic arrays were installed on the roof and adjacent structure), but it also needed to last 100 years—more than three times as long as conventional construction.
Also Read: Architects Paritzki and Liani built a triangular white stone house.
The three-story structure houses several municipal departments previously housed in satellite office spaces throughout town. Housing and Economic Development, Finance and Risk Management, the Office of Sustainability and the Environment, Architecture Services, Civil Engineering, and Cultural Affairs are just a few of the departments. Bringing them together necessitated the establishment of shared office culture. Additionally, the building serves as a point of contact for citizens with local government mechanisms. As frequent visitors to the Santa Monica public counter, the FF & P team sought to create a welcoming environment for obtaining permits and plan checks. Natural light floods the counter and waiting area, carefully modulated by fritted and precise windows overlooking newly planted greenery.
While the Living Building Challenge is most well-known for its commitment to sustainable systems and materials, equity and quality of life are also critical components of the initiative. Considering how people feel and interact in the space influenced the design directly. The windows are operable, and no conventional finishes such as drywall or acoustic tile are used. The concrete surfaces have been left exposed (as is customary in creative workspaces but uncommon in municipal structures), and there are no private offices.
Also Read: Homes With Lush Indoor Trees That Add To The Peace
FF & P designed an open plan in the floor plate's centre to de-emphasize bureaucratic hierarchies and increase communication between departments. As a result, meeting rooms, restrooms, and storage were relegated to the south end. The north end has been designated as a staff lounge—a more casual space for colleagues to congregate for lunch and collaboration.
"This building was a watershed moment for the city," says architect and founding partner of FF & P, Fred Fisher. We took a holistic approach to enhance the quality of life for individuals and communities. We considered the nicest part of the site and placed the communal kitchen, lunchroom, and workspace there."
Also Read: A spiral ramp surrounds an arts centre in China.
Employees also contribute to the site's ecology. The new courtyard between City Hall and the city services building is flanked by the U-shaped wings of the former and is shaded by a colonnade of date palms and filled with edible plants. The design and landscape teams imagined staff picking tangerines or aromatics for tea. It's a foregone conclusion that an afternoon snack will eventually make its way through the toilets into the basement's large compost tanks, where waste is digested by a mixture of sawdust, worms, and beetles. The bathrooms, which consume a fraction of the water used by conventional plumbing, aided the design in meeting net-zero requirements. It's a technology that users rarely discuss and probably do not wish to. However, it establishes a closed-loop system between humans and natural processes.
---
Written By Tannu Sharma | Subscribe To Our Telegram Channel To Get Latest Updates And Don't Forget To Follow Our Social Media Handles Facebook | Instagram | LinkedIn | Twitter. To Get the Latest Updates From Arco Unico