Arcsine's Green Mission Gets A New Home In Brightmark
It's unsurprising that Brightmark, a leader in renewable energy development, prioritized sustainability in designing its new San Francisco headquarters. The company's leadership collaborated with the Oakland-based architecture and interior design firm Arcsine to transform the third floor of a historic mill building in the Telegraph Hill neighbourhood from the early twentieth century. "It was such an excellent canvas for what we were attempting," says Elizabeth Dillon, Arcsine's director of interiors.
Also Read: Victoria Memorial – A Historical Landmark In Kolkata

Along with specifying low-emitting and repurposed materials, Brightmark desired that the 14,000-square-foot space incorporate hospitality elements. Now, its team can create programs to convert organic waste into energy and innovate new plastic recycling methods from an inviting workspace that combines the best of adaptive reuse and environmentally conscious interior design practices. Dillon discusses the project's most impressive sustainable design features and techniques in the section below.
Also Read: A spiral ramp surrounds an arts centre in China.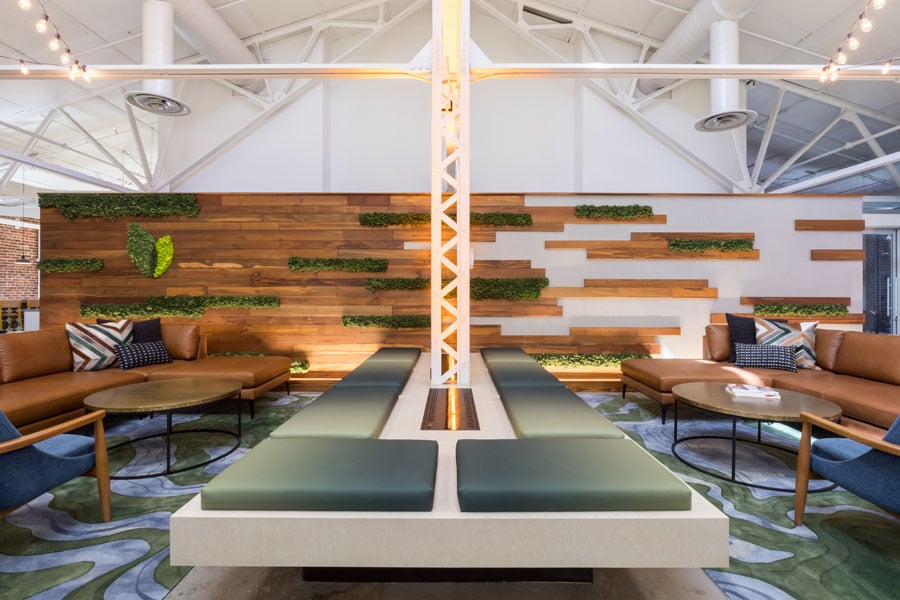 Smart Source
Dillion and his colleagues researched materials and surfaces that, like Brightmark's work in regenerative energy and plastic recycling, result from innovative engineering and manufacturing. For example, she points to the FSC-certified PaperStone countertops in the break room kitchen, which are made from post-consumer recycled paper and cardboard and feature a matte finish that complements the earthy decor scheme. The lounge area's chairs are by Masaya & Co., a brand committed to both sustainable forestry practices and extensive replanting. Dillion's selections for upholstered surfaces include Camira textiles made from recycled ocean plastics and Maharam products made with 76 per cent post-consumer recycled polyester.
Also Read: LeBron James Innovation Center Blending Modernism With Sport

Make B Corps Your Friends
The Arcsine is sourced from certified B Corporations whenever possible to maintain a holistic approach to best sustainability practices. For example, Fireclay Tile, based in the San Francisco Bay Area, is an environmentally responsible tile manufacturing pioneer. Its hand-painted Aerial pattern ceramic tiles made with more than 50% recycled content adorn the Brightmark kitchen/break room island front. (Arcsine also completed the brand's Berkeley showroom earlier this year.) On select upholstered pieces, Carnegie Fabrics, another B Corp, are used.
Also Read: Architects Paritzki and Liani built a triangular white stone house.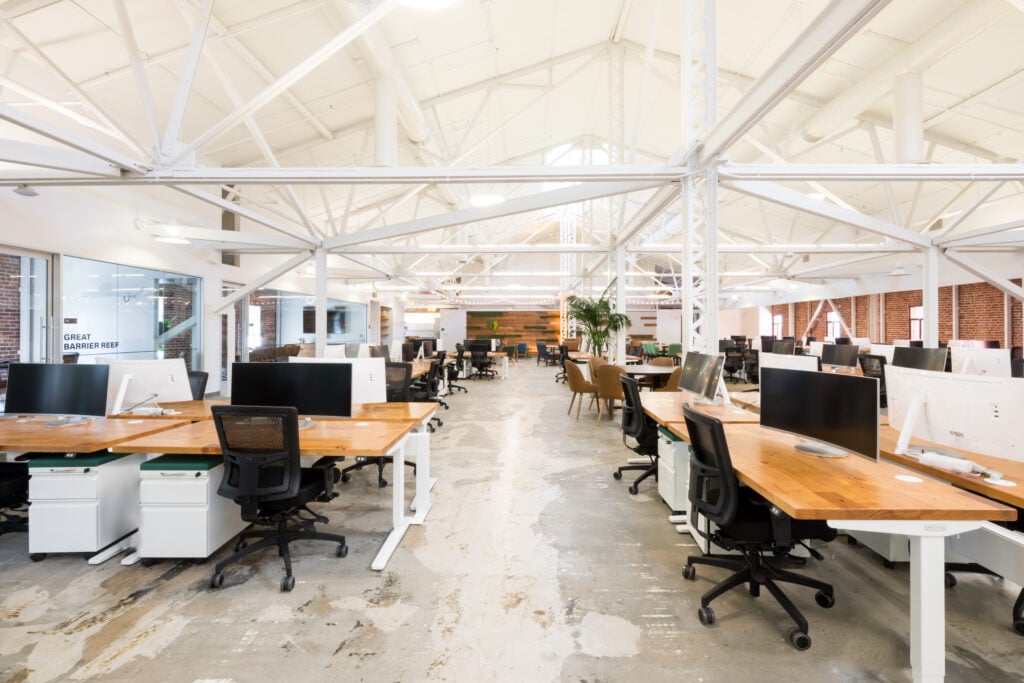 Recycling, reclaiming, and repurposing.
Brightmark requested over 100 sit-stand desks to provide employees with more options and flexibility regarding workstations and work environment. Arcsine created these furnishings by repurposing recycled fir from construction sites, old mills, and whiskey distilleries. In addition, the lounge walls and reception desk are also made of reclaimed wood, and the live-edge conference tables are made of MAS Certified Greenwoods.
Utilize What You Have
"We wanted to keep as much of the historic structure as possible," Dillon says, noting that only one wall was moved to expand a conference room. Concrete floors were polished to restore their sheen, and exposed brick walls complemented the desired look. While the majority of the open space's existing layout was usable, the designers added some distinct spaces, such as a reception area and "better work zones," while utilising minimal additional building products.
---
Written By Tannu Sharma | Subscribe To Our Telegram Channel To Get Latest Updates And Don't Forget To Follow Our Social Media Handles Facebook | Instagram | LinkedIn | Twitter. To Get the Latest Updates From Arco Unico