The Ribbon Chapel By Hiroshi Nakamura & NAP
The Ribbon Chapel is a wedding chapel covering an overall area of 80 square meters in Hiroshima in Japan is meticulously designed by expert architects Hiroshi Nakamura & NAP.
The Ribbon Chapel stands erect in a resort's garden hotel. The name of the Resort hotel is Bella Vista Sakaigahama situated in Onomichi in Hiroshima. The site is located halfway on a hill that overlooks an enjoyable panoramic view of Japan's Inland Sea.
The Structural Design Of The Ribbon Chapel
The structure is a free-standing building with two spiral stairways intertwining with each other. This unprecedented architectural composition personifies the pure and sacred nature of marriage.
One single spiral stairway would have made the construction unsteady in a horizontal direction. It would thus make the structure susceptible to vibrations in vertical directions. This would thus make the building unstable and hence risky to construct and use further.
The Inner Meaning Of The Two Entwining Spiral Stairways
Building two spiral stairways mutually support each other. This makes the structure free standing. The two spiral stairways of the chapel also meet at 15.4 meters before it runs as one single stairway. This depicts how two souls go through several complications before uniting as one.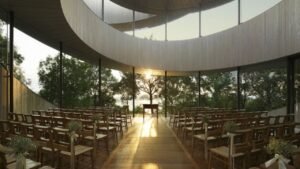 The Structure And Materials Used In The Construction Of The Ribbon Chapel
Usually, a building is an integral part of several small components such as roofs, walls, floors, etc. to build a habitable space. In this structure, the stairways single-handedly act as walls, roofs, eaves, etc.
The façade of the structure is covered with upright wooden panels that are painted white to make it visually aesthetic. The curves are adorned with titanium zinc alloy. This building material is resistant to damage to the breeze of the sea.
The Aesthetics Of The Chapel That Makes The Structure Unique
The aisle of the Ribbon Chapel looks ahead at an already existing symbol tree. Before the tree, the altar is situated. A total of 80 seats are positioned to view the ocean through the gaps of numerous fresh green trees. This scenic beauty makes the place look alive with natural beauty.
The beautiful composition captures the serene beauty of the ocean, mountains the vivid sky, and the islands and strings them together to give the visitors an unearthly experience and make the wedding an ever memorable event with a spectacular destination.
---
Written By Aishee Bachhar | Subscribe To Our Telegram Channel To Get Latest Updates And Don't Forget To Follow Our Social Media Handles Facebook | Instagram | LinkedIn | Twitter. To Get the Latest Updates From Arco Unico