Transforming Indoor Spaces: The Impact Of Biophilic Design
In today's fast-paced and technology-driven world, people often find themselves disconnected from nature. However, there is a growing trend in architecture and interior design that aims to bring nature back into our living and working spaces. This design philosophy is known as biophilic design, which emphasizes the integration of natural elements and the outdoors into the built environment. In this article, we will explore the concept of biophilic design and its numerous benefits. So, let's dive in and discover how biophilic design can transform our indoor spaces.
Understanding Biophilic Design
What is Biophilic Design?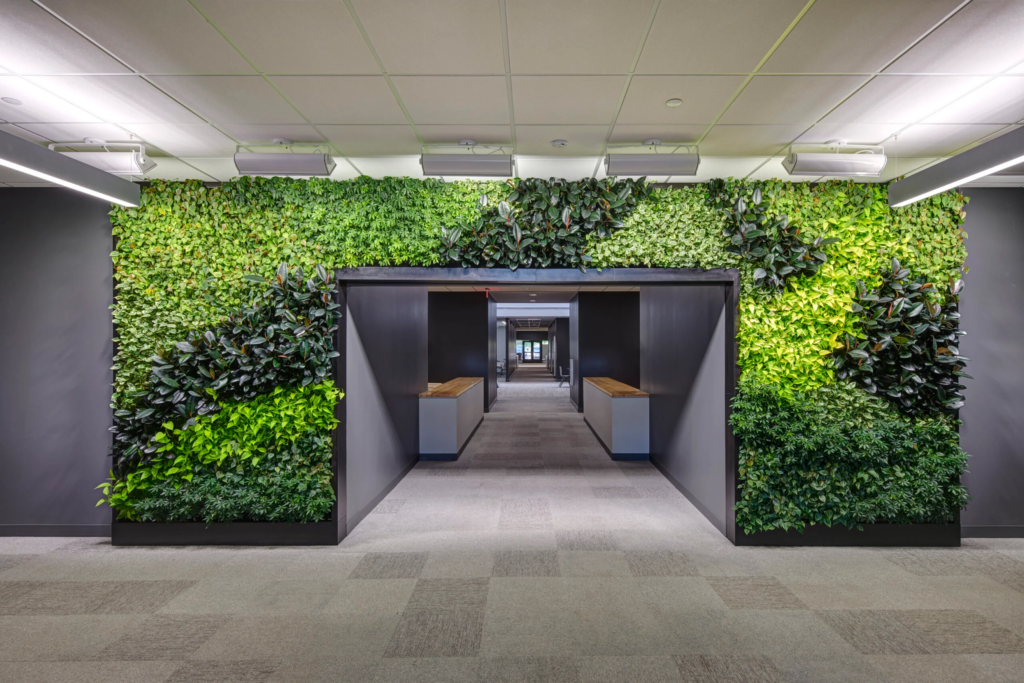 Biophilic design is an innovative approach that seeks to create harmonious and restorative environments by incorporating nature-inspired elements. It draws upon our innate connection with nature and aims to satisfy our inherent need to be close to natural surroundings. By integrating natural materials, patterns, and forms, biophilic design enhances the overall well-being and productivity of individuals inhabiting these spaces.
Key Elements of Biophilic Design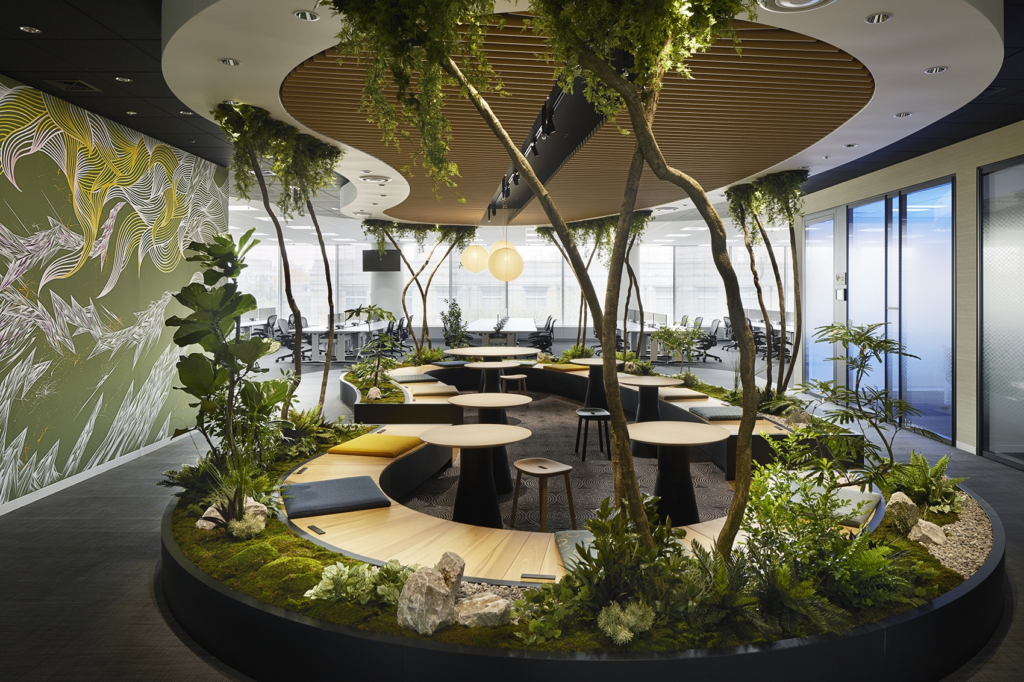 Natural Light: Maximizing the use of natural light is crucial in biophilic design. Large windows, skylights, and light wells are employed to bring in abundant sunlight, creating a sense of openness and vitality.
Greenery and Living Walls: The inclusion of plants and living walls helps simulate a natural environment indoors. They not only improve air quality but also introduce calming and visually pleasing elements.
Natural Materials: Biophilic design favors the use of natural materials such as wood, stone, and organic textiles. These materials evoke a sense of authenticity and connection to the natural world.
Water Features: Incorporating water features like indoor fountains or aquariums can have a soothing effect and enhance the overall ambiance of a space.
Nature-Inspired Patterns: Utilizing patterns found in nature, such as leaf motifs or flowing water patterns, adds a sense of familiarity and tranquility to the design.
Views of Nature: Creating vistas or incorporating panoramic views of natural landscapes outside can provide a sense of awe and inspiration.
Outdoor Spaces: Biophilic design extends beyond indoor spaces. It emphasizes the importance of integrating outdoor areas, such as gardens, balconies, or rooftop terraces, to establish a seamless connection with nature.
The Benefits of Biophilic Design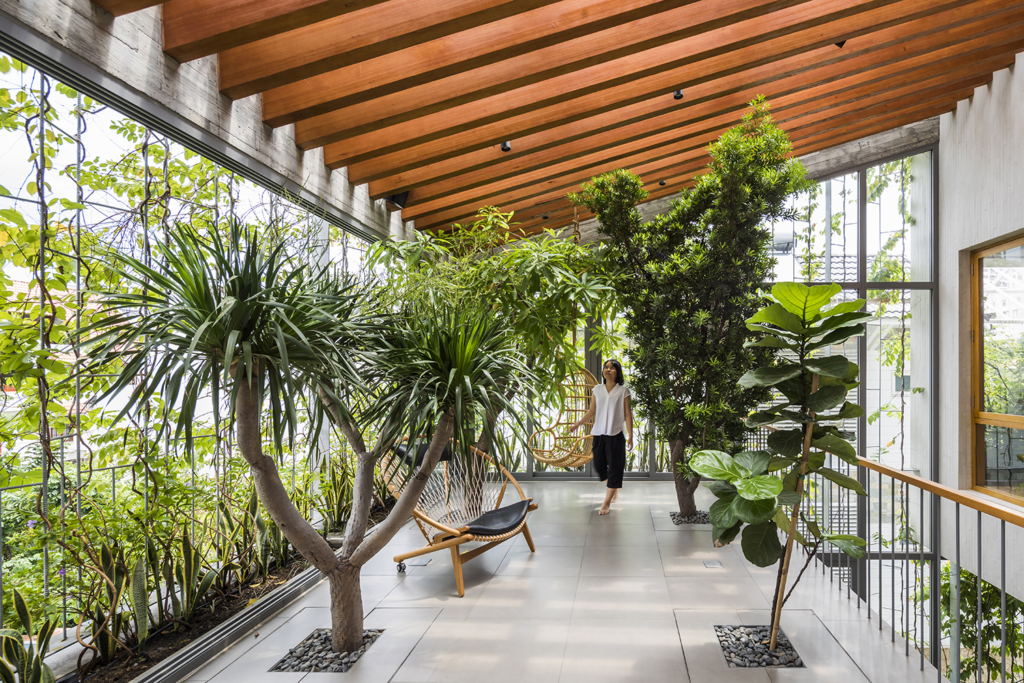 Enhancing Well-being and Health
Biophilic design has been proven to have a positive impact on human health and well-being. Numerous studies have shown that exposure to natural elements can reduce stress, enhance cognitive function, and improve overall mood. The presence of greenery and natural light has also been linked to increased productivity and faster recovery times in healthcare settings.
Increasing Productivity and Creativity
Integrating biophilic design principles in workspaces has shown to boost productivity and creativity among employees. The presence of natural elements can enhance focus, reduce mental fatigue, and promote a sense of calmness, leading to improved job satisfaction and performance.
Improving Air Quality
Plants used in biophilic design act as natural air purifiers by filtering toxins and releasing oxygen. This helps improve indoor air quality, reducing the risk of respiratory ailments and allergies.
Creating Sustainable Environments
Biophilic design aligns with sustainable practices by utilizing renewable materials and reducing energy consumption. The emphasis on natural lighting also reduces the reliance on artificial lighting, resulting in lower energy costs.
Strengthening Connection to Nature
By bringing nature indoors, biophilic design helps people reconnect with the natural world. This connection has a profound impact on our overall well-being, fostering a sense of calm, tranquility, and harmony with the environment.
Implementing Biophilic Design in Your Space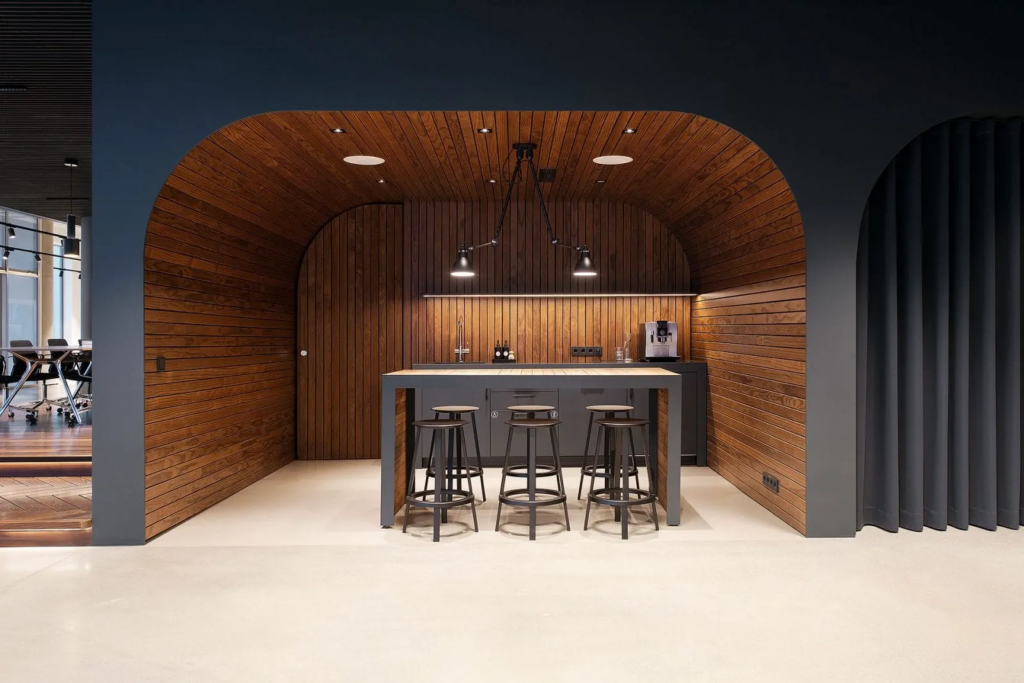 Assessing Your Environment
Before incorporating biophilic design elements, it is essential to assess your space and identify the areas that can benefit from the integration of natural elements. Consider factors such as available natural light, existing views, and the overall layout of the space.
Selecting Suitable Elements
Once you have assessed your environment, carefully select biophilic design elements that align with your space and personal preferences. Choose appropriate plants, natural materials, and lighting fixtures that complement the existing aesthetics and promote a seamless connection with nature.
Creating a Balanced Design
While it's important to incorporate biophilic design elements, it's equally crucial to maintain a balance and avoid overwhelming the space. Strive for a harmonious blend of natural and man-made elements to create a soothing and inviting environment.
Seeking Professional Guidance
If you're unsure about how to implement biophilic design effectively, consider consulting with a professional interior designer or architect who specializes in this field. They can provide valuable insights and help you create a space that truly embraces the principles of biophilic design.
Biophilic design offers a transformative approach to architecture and interior design by reintroducing nature into our indoor spaces. With its focus on natural light, greenery, and the use of organic materials, biophilic design creates environments that enhance our well-being, productivity, and connection to the natural world. By embracing this design philosophy, we can foster a healthier and more sustainable future, where the boundaries between the built environment and nature blur harmoniously. So, let's embrace the power of biophilic design and bring the beauty of nature indoors.
---
 Subscribe To Our Telegram Channel To Get The Latest Updates And Don't Forget To Follow Our Social Media Handles Facebook | Instagram | LinkedIn | Twitter. To Get The Latest Updates From Arco Unico