Birla Planetarium – One of Kolkata's famous landmark
The Birla Planetarium situated in Kolkata is one of the largest planetariums in Asia and the second largest in the world. It is one storied building with a dome-shaped structure on top, inspired by the Buddhist Stupa at Sanchi. This Planetarium was inaugurated by Jawaharlal Nehru in the year 1963.

The architecture of one of Kolkata's renowned landmarks – Birla Planetarium
Birla Planetarium also commonly known as taramandal adorns a huge dome that is easily recognizable from a distance. The first projector was from Carl Zeiss from Germany that worked for 52 years serving approximately 25 million visitors.
In 2017 the planetarium was renovated and more advanced projectors were installed that can simulate the night sky precisely. Nine full-dome projectors can together create mimicry of the cosmos.
The diameter of the dome of the planetarium is approximately 23 meters made meticulously with aluminum and can accommodate 688 visitors at a time. The columns assigned across the circular extremities of the space give it a sense of a small colosseum. The beautiful and aesthetic garden outside this construction complements the whole ambiance of the place.
Educational courses offered by Birla Planetarium
This planetarium offers free astronomy courses which are conducted once every week for ten months. Apart from that, it also offers a post-graduate diploma for students belonging from a mathematics and physics background. This curriculum covers various topics in astrophysics and astronomy. Also depending on the different age groups, there are various kid-friendly programs for children belonging to different age groups.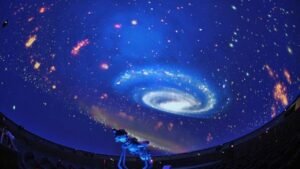 Various Shows held in Birla Planetarium, Kolkata
Birla Planetarium was built to serve the purpose of studying science and researching. The different shows are hosted in different languages. Some of the regular shows held are 'Zodiac signs and Stars', 'New view of the Solar System' and ' Journey of Antarctic', etc. The show that is appreciated and most viewed of all is 'Our Universe', 'Cosmic collision' and many more. This man-made structure gives the feeling of being in a spaceship, making the experience surreal for the visitors and the tourists.
The shows are demonstrated by live lectures given by an expert who transcends the viewers to the world of the cosmos.
---
Written By Aishee Bachhar | Subscribe To Our Telegram Channel To Get Latest Updates And Don't Forget To Follow Our Social Media Handles Facebook | Instagram | LinkedIn | Twitter. To Get the Latest Updates From Arco Unico