The Farnsworth House – Simple is beautiful but it's hard to be simple
Ludwig Mies Van Der Rohe was the principal architect behind the aesthetic and minimalistic plan of The Farnsworth House. This was a weekend retreat for Dr. Edith Farnsworth, which was built between the years 1945 to 1951. It is an idealistic place to recoil oneself amongst the nature of Plano, Illinois on weekends.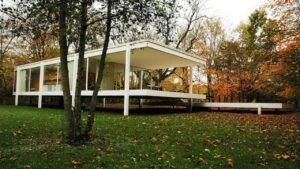 The Farnsworth House – Structure
This is a one-story residence standing with the support of eight I-shaped columns made of steel. These columns single-handedly support the framework of the roof and floor. Embracing the columns there are full-height glass windows that face the woods around it. These windows allow natural lights to smoothly flow through the interiors without any obstruction. The window mullions give additional support to the structure for the floor slab.
The Farnsworth House stands tall amidst a 10-acre unfrequented plot with the Fox River running down the South. It accentuates the simplicity of the structure in an expressive way that is in perfect harmony with nature. This construction is an example of Van Der Rohe's idea of a powerful relationship between nature and buildings.
This structure was built to be lightly weighted thus enabling only the columns to meet the ground. The ultimate height of the house is thus rising to five feet three inches above the earth. The slightly elevated entrance of the house can be climbed using the wide, floating staircases. The ground floor was built at a height to avoid the flood caused due to the overflowing of the Fox River. Except for the enclosed bathroom, the plan of the rest of the house is open defining minimalism at its finest.

A sacred place for all the architecture students, professionals, and architecture enthusiasts!
The Farnsworth House built by Van der Rohe is one the most famous works that define the architect's design principle, style, and philosophy. The building is a holy expedition for many architecture students and professionals. It is now considered as a National Historic Landmark as it was designated so in the year 2006. This appraised construction for Dr. Edith Farnsworth is now a historic site looked after by the National Trust for Historic Preservation. In 2018, the Farnsworth house was chosen as one out of two hundred great places in Illinois.
---
Written By Aishee Bachhar | Subscribe To Our Telegram Channel To Get Latest Updates And Don't Forget To Follow Our Social Media Handles Facebook | Instagram | LinkedIn | Twitter. To Get the Latest Updates From Arco Unico