Chandrakanta Chunargarh is also popularly known as the Chunar fort
The Famous Chunar fort of Uttar Pradesh is one of the historic places of India located on the banks of river Ganga. The fort is made of Chunar sandstone by King Shahdeo in the year 1029 AD, Sher Shah Suri in the year 1538, and Akbar in 1575 AD. At last, the Chunar fort was tenanted by British Raj.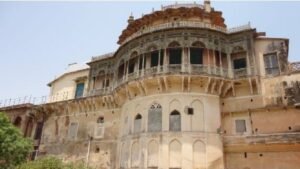 Chunar Fort – Walls and Gates
This impenetrable citadel is built in tiers overlooking the river. The huge embankments encircled the fort which was made of local sandstone. However, unfortunately, these external walls were feeble. It could not defend against the British regiment attacking the fort.
The west side entrance had inscriptions that attributed to its construction by Muhammad Sharif Khan during Akbar's reign. Even though the west gate has minimal ornamentation, there are slabs engraved with calligraphy. The rest of the three entrance gates were decorated splendidly with brackets and curved aesthetic panels.
The architecture of the fort – Chunar Fort
The primary structure of the fort was the citadel. Numerous canons were installed in its northeastern part.
The bay windows resembled the windows in Agra fort. However, some of the designs were ascribed to the Architecture style of the Sur period.
A huge number of bungalows were constructed between the trees. These mansions were used as offices by the British officers during their rule. Some of the other structures present within this compound are the governor's house, a hospital, and a state prison. An ancient Hindu palace is located on the topmost point within the fort.
A 15 feet diameter huge well is located inside the fort which was filled with non-potable water. This humongous structure gives a very uncanny feeling. This well was used by princess Sonwa for her washing or taking a bath.
Sonwa Mandap is one of the two most important structures within the Chunar fort. This Hindu-style open-air pavilion has twenty-eight pillars. It is believed that there is gold filling within an engraving on the mihrab.
At the backside of this spectacular monument, the Samadhi of Bhartri Nath is situated where all kinds of religious ceremonies were celebrated.
The peepal tree encircled with stone slabs provided a shade for the people. It is believed that the Almighty seat there for nine hours daytime and the rest three hours of the day He moves to Varanasi. It was considered that the Chunar fort could be captured in the absence of god in within those three hours.
---
Written By Aishee Bachhar | Subscribe To Our Telegram Channel To Get Latest Updates And Don't Forget To Follow Our Social Media Handles Facebook | Instagram | LinkedIn | Twitter. To Get the Latest Updates From Arco Unico