Lieben Bar, Shanghai: Using Bold Elements And Soft Lighting
Lieben Bar in Shanghai, China, was designed by Shanghai-based architecture firm All Design Studio and has bold materials, textures, and gentle lighting. The 160-square-metre Lieben Bar is named after the concept of using a "door" to lure guests into the bar — LIBEN and take them on an immersive trip of song and wine. In the information age, stores are no longer completely reliant on enormous billboards. Potential customers are aware of this location due to a peer referral and the reputation of social media.
Lieben Bar And It's Contemporary Texture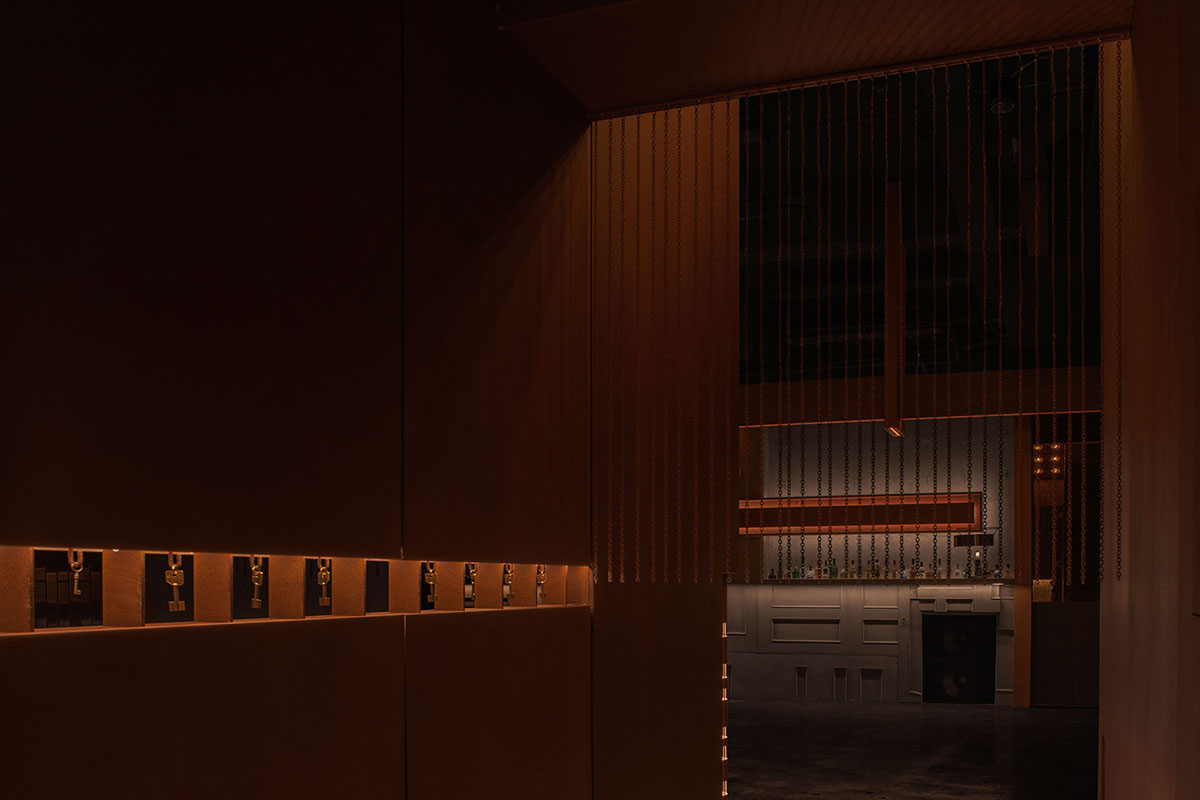 The second storey of No. 758 Julu Road houses Lieben. The bar's façade is protected by clear cement on the wall. The modern interpretation of the original attractiveness is the plain and tense concrete texture. As you progress along the wall, you'll see a locked "door" through which you may see the present scene in the Lieben store via the eyes of the cat. It creates an unusual spatial relationship that flips the inside and outside while allowing passing guests to observe the happy scenes in the bar.
The genuine door is right in front of the false door, hidden but not impossible to locate. Lieben is there, and the previous trapdoor may be seen further along the fan cement wall. To express the concept, Lieben employs the word "door" as the key element. The principal wishes to transmit the Lieben concept in a concrete manner, providing customers with a one-of-a-kind emotional experience.
Secret Base And Bar Counter
It's as if you've walked into a "secret base" when you enter Lieben. A corridor is formed by the rusted iron splice and the concrete wall in the door, and a row of keys on the wall extends to the lobby. The service staff's walking space is on the other side of the corridor leading to the lobby. The rusted iron plate wall serves as a barrier between the guests and the service workers.
To prevent colliding, the two sides may see each other via the gap in the wall. As you enter the lobby, you'll notice the dismantled door frame strewn across the ceiling. To express the excellent blend of minimalism and industrial style, the bar counter uses suspended oak beams. The ornamental finish of eight spliced concrete doors can be found beneath the bar counter. The elements of the doors may be felt in every aspect. The doors in this room were found at a flea market and subsequently painted with cement.
---
Written By Ankit Lad | Subscribe To Our Telegram Channel To Get Latest Updates And Don't Forget To Follow Our Social Media Handles Facebook | Instagram | LinkedIn | Twitter. To Get the Latest Updates From Arco Unico