Qualia Restaurant In Mumbai By Serie Architects
The open kitchen of this Mumbai restaurant built by Serie Architects has undulating chainmail drapes. This gives it a stage-like feel. Qualia is a restaurant on the ground floor of Mumbai's Lodha World One tower that aims to make patrons "feel a part of the entire cooking process." To accomplish this, Serie Architects oriented all of the dining sections in the 370-square-meter restaurant towards the big open kitchen that runs the length of the back wall.
Interiors And Patterns Observed In The Qualia Restaurant
The kitchen is divided into three sections: a beverages bar, a central cooking area and a dessert-making area. A golden chainmail screen hangs over each of these parts. The screens softly undulate, similar to heavy velvet curtains in a theatre. This giving the kitchen below the illusion of being a "stage."
Several rows of shelving are positioned behind the screens to serve as a proscenium. An arched or square framework placed on a theatre stage to frame the action of the play. Glass jars of ingredients that are used in Qualia's menu items are displayed on the shelves. A high counter and a row of stools have been positioned directly in front of the kitchen so that diners can see the chefs busy making orders up close.
Designs On Display In The Restaurant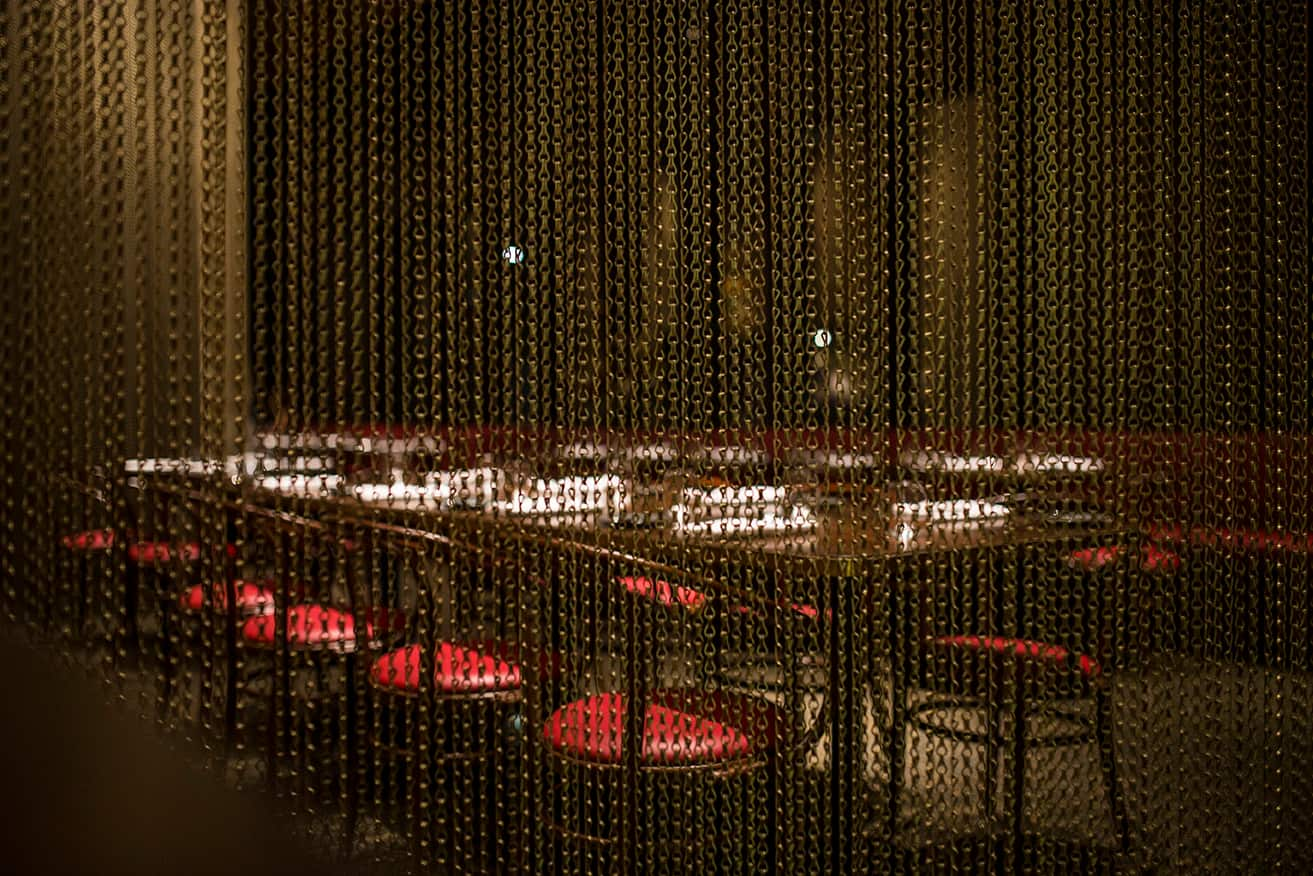 Wooden tables and bistro-style chairs with red leather seats were then positioned down the centre of the restaurant. Around three towering columns, keeping the kitchen visible and close at the same time. In front of these columns, bronze chainmail has been strung that spans four metres from floor to ceiling. The drapes also extend across the restaurant's bottom level, creating a more private, closed-off dining area.
Long cherry-red sitting banquettes stretch down the front side of the restaurant, situated against the windows so that guests can see the kitchen well. Dish-shaped pendant lights strung overhead illuminate the tables. The material palette in the restaurant has been kept limited, except from the chainmail curtains. The kitchen's floor and surfaces are covered in black terrazzo tiles, with wooden louvres across the ceiling providing sound absorption.
---
Written By Ankit Lad | Subscribe To Our Telegram Channel To Get Latest Updates And Don't Forget To Follow Our Social Media Handles Facebook | Instagram | LinkedIn | Twitter. To Get the Latest Updates From Arco Unico