St. Basil's Church – The Unique Cathedral in Moscow
St. Basil's cathedral is also famously known as the Cathedral of Vasily the Blessed. It is an orthodox church situated in Moscow. The construction today is a museum. The construction of this famous architecture was started in 1555. It took six years to complete the building. The architecture was finally completed in 1561.
The Constructional Features Of St. Basil's Church
St. Basil's Cathedral was known to be the tallest building in the area until the Ivan the Great Belltower was built.
Originally the cathedral was christened Trinity Church and later Trinity cathedral. The structure contains eight chapels. These chapels are organized encircling the ninth chapel that was devoted to the Intercession. A 10th chapel was constructed in the year 1588 over the grave of Saint Vasily or Basil. He was the venerated local saint.
There are in total nine domes in the cathedral. These are shaped like the flames of a bonfire.
The foundation of the cathedral was made of white stone that was considered traditional in medieval Moscow. However, the church was made of red bricks. It acquired vivid colors over the years from 1680 to 1848.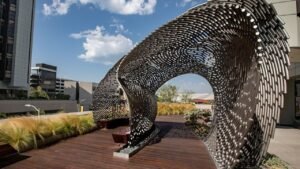 The Uniqueness Of St. Basil's Church
Several surveys have shown that the basement level aligned perfectly. But the succeeding levels have gradually become irregular. Multiple restorers discovered an internal wooden frame concealed inside the massive brick wall. These hidden walls ran throughout the continuous height of the church. The particular frame is made with expertly tied thin studs. It was built as a life-size model which was later enclosed with solid masonry.
The builders used a lot of brickworks. When the location required stone walls, the builders went to the extent of using brick patterns painted over stucco. Several intricate floral designs were installed in later periods.
The strangeness of the structure amazes the visitors with the inexplicable vibrant manifold details in its design. Nothing more profound and aesthetically appealing structure has been found in the whole of Byzantine tradition starting from the fifth century to the fifteenth century. In the 17th century, this unique architecture has foretold the climax of Russian national architecture.
---
Written By Aishee Bachhar | Subscribe To Our Telegram Channel To Get Latest Updates And Don't Forget To Follow Our Social Media Handles Facebook | Instagram | LinkedIn | Twitter. To Get the Latest Updates From Arco Unico