The Blue Mosque also popularly known as the Sultan Ahmed Mosque in Turkey
The Sultan Ahmed Mosque in Istanbul took approximately 7 years to be constructed. This mosque was built during the reign of Sultan Ahmed I in Turkey. This mosque houses the tomb of Ahmed. It also has a hospice and a madrasah which is an educational institution.
The Blue Mosque – Why is it called so?
This mosque is adorned with striking blue-colored tiles on the interior walls of the mosque. These blue tiles are hand-painted by experts. At night, the mosque gets illuminated with blue lights that make this historic architecture look more aesthetic and divine.
The mosque contains five main domes, eight secondary domes, and six minarets. It is a UNESCO world heritage site that is enlisted in the list of 'Historic areas of Istanbul' in 1985.
The architectural features of the great mosque
The design of the mosque assimilates numerous Byzantine elements merged with traditional Islamic architecture. The Sultan Ahmed Mosque is considered the rearmost great mosque belonging to the classical period.
Sedefkar Mehmed Agha was the principal architect behind this huge creation. The upper part of the mosque is accessorized with twenty thousand hand-painted ceramic glazings with approximately 60 varied tulip patterns. The lower section of the mosque is lightened up by two hundred stained glass windows.
The mosque opens to a courtyard that has a beautiful and large fountain to make the space more visually appealing. It also has a special area for washing. On the western side entrance, iron chains hung that ensured that the Sultans entered the mosque with their head stooped low as a mark of gratitude, a sign of humility in front of Allah. While entering the mosque in their horses, if the Sultans did otherwise their head would knock against the chains.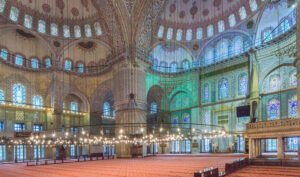 On the interior of the mosque, the central dome sits on a fragile pendentive whose weight is supported by four huge columns. To expand the space for prayer several half domes were made outwards to finally join the external walls of the mosque.
The mosque stands gracefully with four minarets beautifully placed on the corners of the prayer hall. The rest two out of the six minarets are positioned on the extreme corners of the courtyard. There are beautifully crafted balconies encircling the outer surface of the minarets.
The hall that was designated for praying is packed with numerous architectural features. These include the platform for the Sultan, an arcaded gallery, and many more.
The imperial loge is the most striking feature of the mosque. It is supported by ten columns made out of marble. The mosque also contains a splendid mihrab, which shows the direction of Mecca, constructed and sculpted finely with intricate designs.
---
Written By Aishee Bachhar | Subscribe To Our Telegram Channel To Get Latest Updates And Don't Forget To Follow Our Social Media Handles Facebook | Instagram | LinkedIn | Twitter. To Get the Latest Updates From Arco Unico