The Hill Of Buddha – A famous architecture by the very talented architect Tadao Ando 
Sapporo is the capital city of the hilly northern Japanese island of Hokkaido. It is the largest city In Japan, a place well known for its spectacular architecture 'The Hill of the Buddha' built by Tadao Ando.
This project is possibly contemplated on the scale of the landscape than architecture. Hence it needed a special mindset and an extraordinary perspective to reposition the environment, which was a very demanding yet exciting task.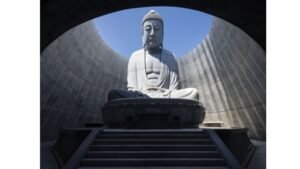 The main objective of this humongous structure by Tadao Ando
The main objective of 'The Hill of the Buddha' was to construct a prayer hall that would intensify the attractiveness of the stone Buddha which was sculpted fifteen years ago.
The humongous Buddha figurine was 13.5m high and weighed 1500 tons. The area is a gently sloping hill on 180 hectares of exuberant land that belonged to a cemetery.
It is constructed using fine and highly selected solid stone. Before the temple was built the Buddha stood alone for 15 years that was realized to be out of scale and had very unsettling impressions on the visitors. To settle this matter Tadao Ando was hired to look into the situation as the client wanted the visitors to have a more serene admiration of the Buddha.
The architecture of The Hill of Buddha
The resulting construction embraced the statue of Buddha adorning 150,000 lavenders on the hill, with the top of Buddha's head peeking through the top. The top of the head was deliberately made visible from outside the hill.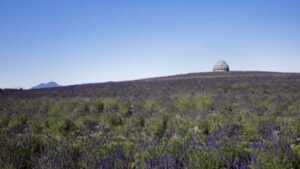 The lavender changes its colors seasonally, from lively green in spring to vibrant purple in summer and appearing white, clad in the snow in winter.
Visitors now approach the grand figurine of Buddha through a 130 foot long tunnel-like passageway where the Buddha sits with the circular open space above its head giving the sky the appearance of a halo encircling Buddha's head.
The walls of the tunnel are built of folded concrete that enhances a sensation for the fundamental yet colossal nature of the construction.
The basic intention of Tadao Ando's design was to create a lucid spatial sequence. The short journey starting from the long tunnel heightens the anticipation of the visitors for a glimpse of the statue, which is invisible from the outside.
---
Written By Aishee Bachhar | Subscribe To Our Telegram Channel To Get Latest Updates And Don't Forget To Follow Our Social Media Handles Facebook | Instagram | LinkedIn | Twitter. To Get the Latest Updates From Arco Unico