The Inventor Of The Kaleidoscopic Sky Nest
Few skylines are as recognisable as the one in New York City. The permanent design installation, Air at SUMMIT One Vanderbilt, provides a true bird's-eye view from its cloud-grazing perch above Midtown Manhattan. The SUMMIT is a series of interconnecting, built-in infinity rooms and exhibition spaces crafted by artist Kenzo Digital and his studio into the top three Snhetta-designed floors of the 93-story, the 1,401-foot-tall tower that looms above Grand Central Terminal.
Also Read: Designing Sustainable Concrete: ETH Zurich's HiLo Unit
This immersive art experience begins at a tunnel entrance on the basement level of Grand Central Terminal. Visitors are transported to the 91st floor via mirrored elevators, where doors open to reveal an illuminated dayglow antechamber that heralds the arrival of Air, SUMMIT's crown jewel. Transcendence, Air's main space, connects the two main floors via a "chamber of light and glass" comprised of 25,000 square feet of mirrors that are naturally lit by full-length windows and strategically placed to refract city light. A glass balcony wraps around a mirrored entryway, connecting the spaces to the outside world and providing unmatched views of the Chrysler Building and Bryant Park. Air's mirrored floors are the result of two years of design and installation. They are supported by a structural aluminium frame, elevated above concrete slabs, and crafted from German-designed annealed glass that is secured to the underside by a structural honeycomb. Each reflective surface is designed to adapt to daily changes in heat and light.
Also Read: Architects Paritzki and Liani built a triangular white stone house.
"The concept of air is that it is a living organism," Kenzo explained during a December tour, referring to the installations' responsiveness to the elements. "I wanted to create a physical space capable of having a profound, emotional, and psychological relationship with a human being." Transcendence flows into Affinity, another mirrored room adorned with free-floating silver Mylar orb balloons, a nod to Andy Warhol's Silver Clouds and Yayoi Kusama's floor-based reflective installation Clouds, which occupies one of the smaller, succeeding rooms.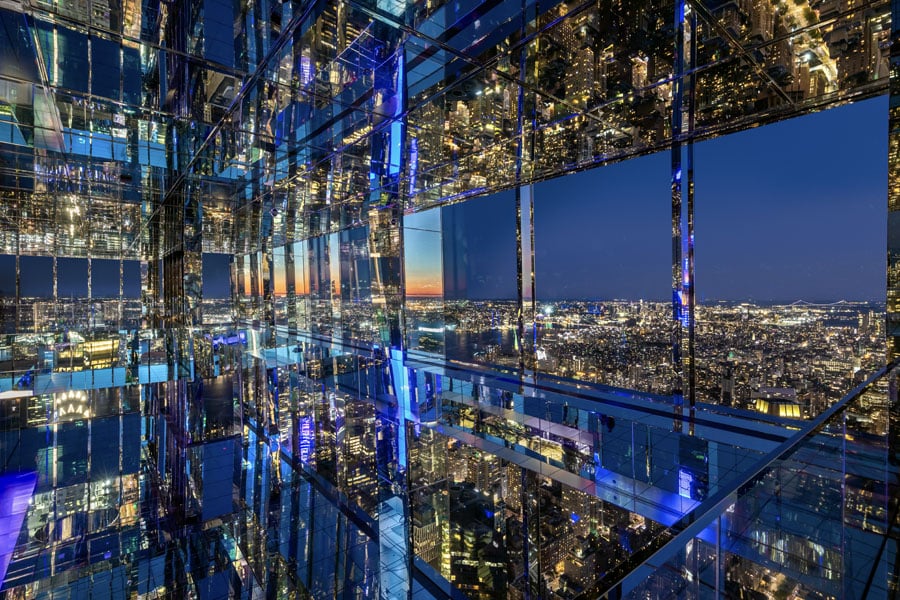 The culmination of Air is Unity, a massive, pulsating 47-foot-wide upright LED video screen resembling a technicolour storm cloud, a nod to Kenzo's great uncle, Nam June Paik. One Vanderbilt, an enclosed glass ledge designed by Snhetta that creates the sensation of floating weightlessly above the city, and Ascent, a glass elevator that leads to the top of One Vanderbilt, skirt the floor. Additionally, Snhetta designed the interiors of Summit's non-air areas, as well as a small gallery space and the 93rd-floor terrace.
Also Read: Homes With Lush Indoor Trees That Add To The Peace
The overall design of SUMMIT was inspired by Kenzo's recurring childhood fantasy of waking up in a mysterious, mirrored two-story space atop a glittering penthouse. However, Summit's ethos was founded on the principle of energy conservation. "I wanted to create something that didn't require electricity—day or night—and relied on the sun's reflection and ambient light from the city." A sound bath created by sound designer Joseph Fraioli enhances Kenzo's vision (Tenet).
As New Yorkers, we are cut off from nature, and our sense of time is disorganised and frantic. As a result, you frequently overlook the role of nature in the city and your place within it. In many ways, I see this as a way to escape the rivers of the chaos below, "says Kenzo, who spent the majority of the lockdown installing. I designed Air to elicit a universal sensation—you begin to perceive the city as an organism, an extension of nature." It's a chance to see the city and yourself through new eyes, he explains. "We're connecting you to the rest of the world, but we're also connecting the rest of the world to you."
---
Written By Tannu Sharma | Subscribe To Our Telegram Channel To Get Latest Updates And Don't Forget To Follow Our Social Media Handles Facebook | Instagram | LinkedIn | Twitter. To Get the Latest Updates From Arco Unico