Zuellig Building – The First Premium Building Office Tower In the Philippines
Zuellig Building in the Philippines is known as the first exceptional office tower located in Manila's Makati Central Business District. This splendid architecture has been nominated for the MIPIM Asia Award in 2012.
The skyscraper stands tall with a height measuring approximately 160 meters. There are 33 stories in total. It was constructed in 2000.
In Makati, it is known to be the first building that the U.S. Green Building Council has pre-certified at the LEED Gold level. In September 2013 it was expected to acquire the LEED Platinum certification.
The Dimensions Of The Architecture
The housing occupies 65000 square meters of office space. The retail space occupies nearly 2000 square meters. The location of the building is highly desirable. It is located at a notable intersection that proposes to accommodate development in the future.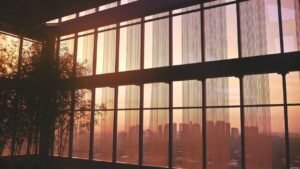 The Architectural Features Of Zuellig Building
The overall building form was inspired by the geometry of the site that is bounded by Makati Avenue and Paseo de Roxas. The floor plates are fan-shaped. These floor plates taper towards the southern side. This arrangement allows the building façade to be set orthogonally towards the west and east property lines. This ensures efficient engagement between the building and the city in that direction.
The authentic curtain wall glazing makes the structure look astounding. This glazing mimics a ceramic frit pattern. This gives the exterior of the building an aesthetic look. 90% of the office space is naturally lit from daylight. The sensor-controlled lighting system reduces the energy consumption of the building by 15% as compared to other office towers. Rainwater collection and greywater cycling make sure to save 29 million liters of water every year.
The floor plates measure 1870 and 1945 square meters each. The floors are column-free. This ensures high proficiency in organization and flexibility.
The Spectacular Design Of The Zuellig Building
A modular office space modification and channels for up-gradation of computers and communication technologies can be facilitated by a raised floor systems.
On the 30th floor, there is an open-air terrace which is doubled in height. It ensures an outdoor gathering for visitors. Attached to the tower there is a low-rise pavilion that holds a food court, lounge housing restaurants, meeting rooms, etc. This open-air terrace showcases the beautiful view of the Ayala Triangle Park and Urdaneta Village.
---
Written By Aishee Bachhar | Subscribe To Our Telegram Channel To Get Latest Updates And Don't Forget To Follow Our Social Media Handles Facebook | Instagram | LinkedIn | Twitter. To Get the Latest Updates From Arco Unico