A Texas Pedestrian Bridge's Design Expresses Community
Volkan Alkanoglu Design's pedestrian bridge, Drift, has an elegant simplicity that belies its disruptive nature. The 62-foot timber and steel structure, which bends in ways reminiscent of driftwood, spans a creek bed in a Fort Worth neighbourhood.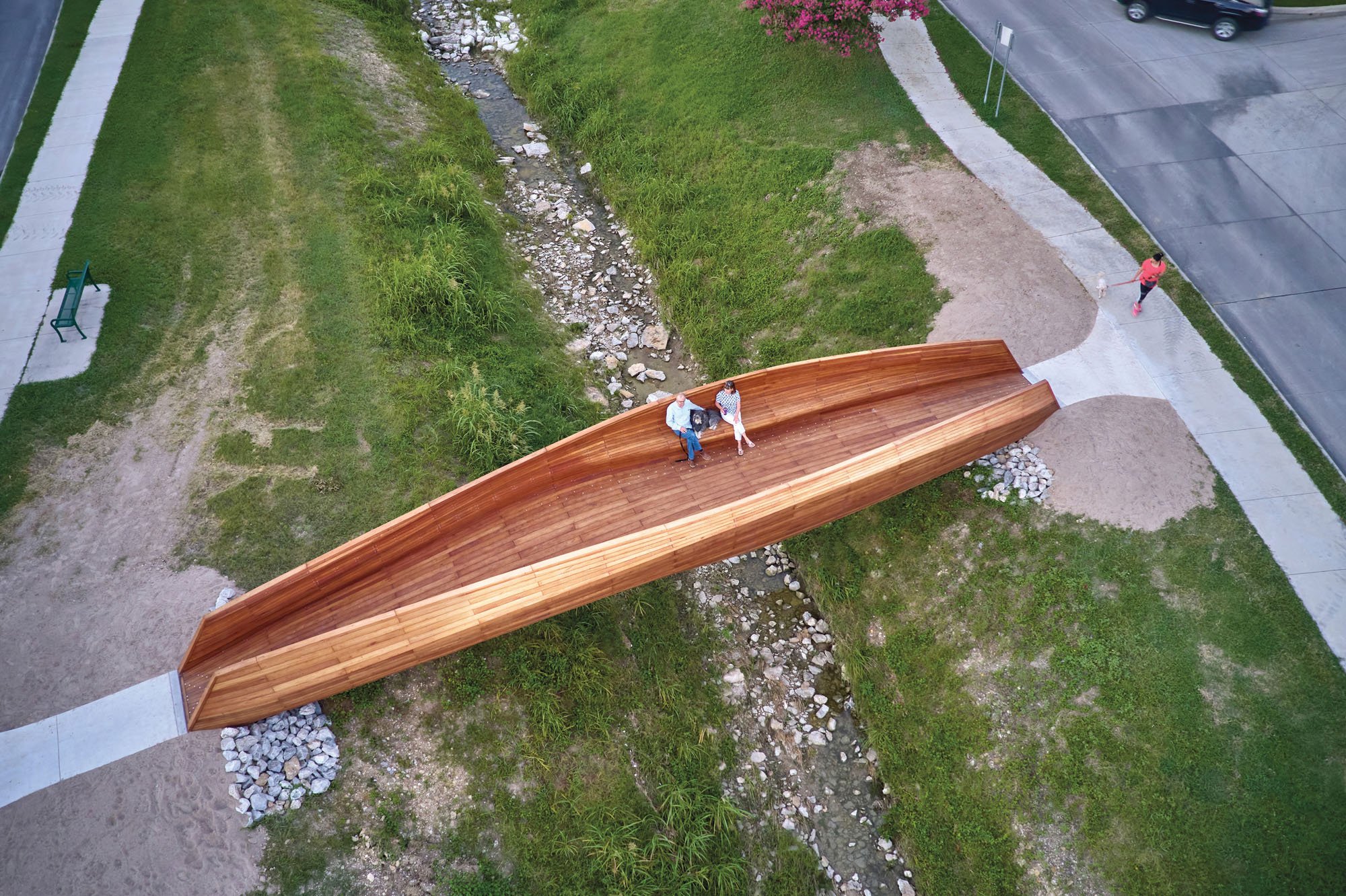 Also Read: LeBron James Innovation Center Blending Modernism With Sport
The project, commissioned by Fort Worth Public Art, could have been as straightforward as building a bridge and adding ornamental elements. However, Alkanoglu, founder of his namesake firm, saw a greater opportunity: "I envisioned this as a project that could spark a new way of thinking about how we enhance specific places and their communities," he recalls.
The designer opted for what he refers to as "plug-and-play urbanism," a strategy in which infrastructure components are constructed off-site and then dropped into place. "We didn't have the budget for scaffolding, which means the bridge has to be built twice," Alkanoglu explains. "So we attempted to be innovative and simply asked ourselves, what can we do with only one bridge?"
Also Read: Architects Paritzki and Liani built a triangular white stone house.
The solution incorporated both traditional and computational design techniques. Drift was fabricated in Indianapolis off-site and features a steel armature clad in CNC-cut and flip-milled timber planks.
Each plank was custom-cut and then stack-laminated to create a unique shape. The completed bridge was transported to Texas using an oversize truck and crane-lifted into place.
Due to the bridge's minimal on-site construction, the bridge had a negligible impact on the creek and its surrounding community.
Also Read: A spiral ramp surrounds an arts centre in China.
It is not simply something that mends the community. When we visited recently, a number of people expressed how the bridge has encouraged them to walk more, Alkanoglu explained.
Drift's curved shape adds stability and features a concave hull with railings and benches. "Considering the current condition of infrastructure and civic places in the United States, I'm thinking about how we can potentially use this process to upgrade, update, and enhance those spaces," Alkanoglu continues.
---
Written By Tannu Sharma | Subscribe To Our Telegram Channel To Get Latest Updates And Don't Forget To Follow Our Social Media Handles Facebook | Instagram | LinkedIn | Twitter. To Get the Latest Updates From Arco Unico