IIM Ahmedabad – A Spectacular Creation Of Louis Khan
The National Institute of Design, Ahmedabad cordially invited the Philadelphia-based American Architect, Louis I. Khan to design the IIM, Ahmadabad campus. The famous architect was inspired by the evocative of the monuments of the Nalanda University. Two other renowned architects B.V Doshi and A.D Raje were also appointed in the designing of the IIM, Ahmedabad campus.
The Structure Of The IIM, Ahmedabad Campus
The principal complex is rectangular. The Southern side of this structure houses the teaching wing. This wing consists of six classrooms. The horseshoe seating arrangement enables the students to interact easily around the perimeter. The teaching wing also houses five seminar rooms.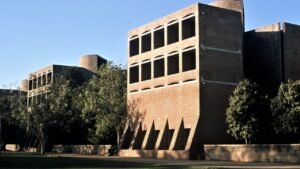 The faculty and administration offices lie to the Northern side. The kitchen and dining halls fall on the eastern part, whereas the library is situated to the East. The excellent design of the library makes it feasible to hold approximately 100,000 books.
The constructions on all four sides open to a central open courtyard. This courtyard serves the purpose of a meeting place for the students and faculty members.
The primary complex is an arrangement of courts, light wells, and services concerning the main functional body.
The Thought Process of Louis Khan Behind This Spectacular Design
Louis Khan's conceptual reevaluation of the educational practice remolded a school into an institute. Here the education is a synergic, cross-disciplinary endeavor happening in and out of the classroom.
When one takes a stroll around the complex silently, be it in the scorching heat of the summer or the cool winter, they get the resonance of various conversations and activities. The transitional spaces with their apertures and formal linkages are one of the significant characteristics of the college.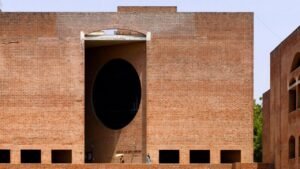 The perforation in the construction, their positions, and the surfaces of the load-bearing masonry walls enable one to anticipate the kind of activities that will go on in the building. The purpose of the existence of all the solid surfaces and voids is relevant to the design.
The idea of building a load-bearing masonry construction brings out the vintage technologies of constructions. This traditional method makes the space more aesthetically pleasing while giving it a more authentic look.
---
Written By Aishee Bachhar | Subscribe To Our Telegram Channel To Get Latest Updates And Don't Forget To Follow Our Social Media Handles Facebook | Instagram | LinkedIn | Twitter. To Get the Latest Updates From Arco Unico