Kerala House ornamented with natural light
A family home in the small town called Maranchery in the Malappuram district of Kerala is utilizing light to create a visually appealing ambiance for the inhabitants. The property spans over an area of 5227 square feet. The residence is occupied by three people. It is built on some fascinating guiding principles.

Minimalism – The ultimate aesthetics
As per the principal architect Fazil Moidunny, the family wanted a simple and natural 2000 square feet, three-bedroom house on a tight budget.
The residence is surrounded by open fields filled with greenery. The abundant smooth flow of light through the windows enhances the tranquility of the environment. The openness of this design was built to intensify this specific elemental feature.
The highly efficient design of the Living room and the Dining room
The living room is a cozy and comfortable space with minimal furniture and room décor. The ceiling is 15 feet high that makes the place look more attractive.
The double-height dining area with cantilevered concrete steps is one of the astounding features of the place. The monotony of the monochromatic color palette is broken by the striking ochre wall. The room is filtered with an ample amount of natural light flowing in through the skylight above that adds warmth to the expanse.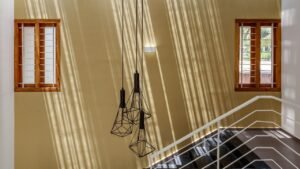 The plan of the Kerala home
The structure was planned with two principles in mind. One was unobstructed wind flow and the second one was the interconnection of the man-made structure with the nature around.
To satisfy the above-mentioned principles, the plan was deliberately segmented into two parts. The primary segment had an internal courtyard in the direction of the wind. The secondary segment had an exterior veranda. All the rooms of the house open to the internal courtyard. It makes the space an ideal communal spot.
The external veranda channelizes the wind towards the interior of the house and the family can use the external space to have a family gathering. The veranda is shaded by a Bucida tree and the sitting arrangement at the corner has benches that are made out of concrete that gives the space a rustic and more authentic look.
The interior is considered to be the lungs of the house. Winds flow smoothly from the external veranda to the internal courtyard making the place well ventilated. The span is made breathable by adorning it with intricate jali-works. These jali screens not only make the place highly ventilated by bringing in cool air, but it also adds onto making the ambiance more aesthetically appealing.
---
Written By Aishee Bachhar | Subscribe To Our Telegram Channel To Get Latest Updates And Don't Forget To Follow Our Social Media Handles Facebook | Instagram | LinkedIn | Twitter. To Get the Latest Updates From Arco Unico